Mark Huyge, Steve Watson heading to Redskins' rookie minicamp
Posted on Mon, Apr 30, 2012 : 6:42 p.m.
The Washington Redskins turned a lot of heads Saturday when they selected Michigan State quarterback Kirk Cousins in the fourth round of the NFL Draft -- after taking Baylor's Robert Griffin III with the second overall pick.
Now, Steve Watson will be catching passes from both of them as he tries to latch onto an NFL team.
The former Michigan tight end was invited to participate in the Redskins' rookie minicamp this weekend. Offensive tackle Mark Huyge also was invited to the workout, which begins with physicals Thursday.
For Watson, that means he'll be in the unique position of running routes for Griffin, who won the Heisman Trophy last season, and Cousins, who helped lead the Spartans to four consecutive wins against Michigan.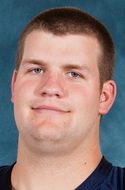 "I'm just going to go up there and do my best, no matter who's at quarterback," Watson said from his parents' home in Denver, where he watched the draft. "I'm just playing football. Doesn't matter who it's with. After everything that's happened to me in my career, I'm just looking for a chance to prove myself."
Watson played five positions in his Michigan career, and appeared in games at each of them. That's believed to be a modern school record, according to Michigan historian Greg Dooley of MVictors.com.
He began his career as a tight end before moving to linebacker, defensive end, defensive tackle, fullback, then back to tight end.
Huyge, on the other hand, started 29 games at Michigan, including all 13 last year at right tackle.
He was listed at 6-foot-6, 302 pounds last season, but has put on about 15 pounds since starting offseason conditioning with former Michigan strength coach Mike Barwis (who also trained Watson).
Huyge, who graduated from Michigan on Saturday, said he went back to his Ann Arbor apartment after commencement in time to watch the seventh round. He grew restless as the draft finished and his phone remained silent.
But Washington came calling early Sunday, and Huyge readily accepted.
"I was a little disappointed, but I just need an opportunity," Huyge said. "It doesn't matter at this point whether I was drafted, or when I was called. I just want to go out there and show what I got. Prove to people I can play."
Huyge also was invited to attend the Miami Dolphins' rookie camp, but turned that one down because it overlapped with the Redskins' workout.
If Huyge isn't signed by Washington, he also has a tryout lined up with the Seattle Seahawks.
Watson has another minicamp lined up with the Green Bay Packers, if he isn't signed by the Redskins.
Michigan players who already have agreed to free-agent deals: Ryan Van Bergen (Panthers), Troy Woolfolk (Cowboys), Mike Shaw (Redskins) and Brandon Herron (Buccaneers).
Those selected in the draft include Mike Martin (third round, Titans), David Molk (seventh, Chargers) and Junior Hemingway (seventh, Chiefs).
On Monday, ESPN analyst Mel Kiper Jr. called Molk and Hemingway late-round steals for their respective teams.