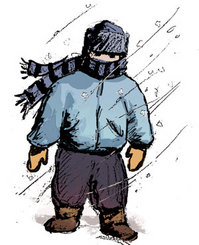 Warm The Children is a program whose mission is to provide new warm winter clothing for children in need. The mission is led by AnnArbor.com and accomplished through the cooperative effort of AnnArbor.com, the Ann Arbor Area Community Foundation, United Bank & Trust, social service agencies, schools, volunteer shoppers, cooperating retailers and our national partner, Warm The Children, Inc.
Some facts:

A program made up of a complex network of donors and volunteers. The program is dependent upon honesty, sincerity, commitment and respect of the privacy and dignity of all involved. Area school and agency social workers identify and refer children in need. Volunteers process nearly 3,000 referrals and enter the information into a database. Purchase orders are generated for each child in the family (ages newborn through age 16). The shopping manager divides the families and sends to them to group shopping coordinators who then assign each family to a shopper. The shopper coordinates a meeting time with the family and meets them at an area Target store to help them shop. They pay for the items with the purchase order - $90 per child.

AnnArbor.com absorbs program overhead. The Ann Arbor Area Community Foundation serves as fiscal sponsor and United Bank & Trust processes all donations. Support from these organizations allows for 100% of your donation to provide warm clothes for children*.



During the past 15 years, the WTC program has served more than 23,000 local children in Washtenaw and Livingston Counties.


Has raised nearly 3 million dollars.


Donations come from AnnArbor.com readers, businesses and individuals from the community. They come in cash and checks ranging from 25 cents to thousands of dollars.


Every dollar donated goes to purchase new warm clothing (small % fee is incurred for online donations*).


Children throughout Washtenaw County and limited areas in Livingston County are served by the Warm the Children campaign.


Shopping is underway for the 2012/13 season. Help us achieve our goal of raising $250,000 now to serve 3,000 children in the winter of 2013/14!
In person at any United Bank & Trust branch in Washtenaw County

By mail. Download form and mail with a check or money order to:
Warm the Children
c/o United Bank & Trust
PO Box 1127
Ann Arbor, MI 48106-1127
Online
For your convenience, online donations are accepted using the online donation form below. *However, credit card processing fees apply to donations made online ($0.99 + 5.5%). For example, a fee of $3.74 is added to a donation of $50. If you want 100% of your donation to go to Warm the Children, download a form and mail it with a check or money order to the address above.
Online Donations

If you have any additional questions please call 734 623-2525 or email warmthechildren@annarbor.com
Would you like to be a volunteer for Warm the Children?

Volunteers are needed for data entry and administrative items and well as to shop with the families referred to Warm the Children. Volunteer shoppers are of vital importance to the Warm The Children program. Our volunteer shopper coordinators match up families with volunteer shoppers who meet the family at the store, manage the administration of the dollars and assist the family with shopping. If you would like to volunteer in any capacity, please fill out the following form and a Warm the Children coordinator will contact you.

2011 Overview
Thanks to the generosity of individuals, groups and businesses, $205,127.28 was raised during the 2011 campaign.
During the 2011 Warm the Children season, 3,202 children were referred to the program and 2,824 of those children received new warm winter clothing. Warm the Children was not able to serve 212 of the children because they had either moved out of the area, declined the service due to a change in financial status, or because the contact information they provided was no longer valid.
AnnArbor.com would like to extend their warmth and appreciation to hundreds of volunteers that make this program a success.
Volunteers include hundreds of individuals as well as members of the following service groups and organizations:

Ann Arbor Links
Ann Arbor Optimist Club
Ann Arbor Regent Hotel & Suites
Brighton Kiwanis Club
Chelsea Kiwanis Club
Community Driven Credit Union
Conlin Travel
Dexter Kiwanis
Eastern Michigan University Baseball Team
Grace Church
Hamburg Kiwanis
Junior League of Ann Arbor
Kiwanis Club of Ann Arbor
Kiwanis Club of Ypsilanti
Main Street Area Association
Manchester Kiwanis Club
Pinckney Chrysler Dodge Jeep Ram
St Mary Magdalen Church
St. Nicholas Philoptochos Church
St. Paul Missionary Baptist Church
St.Mark Lutheran Church
Notre Dame Club of Ann Arbor
United Bank and Trust
Vi's Keystone Friends
Western Kiwanis and Redeemer Lutheran Church
Whitmore Lake Kiwanis Club
Ypisilanti Rotary Club
Ypsilanti Area Jaycees