July 27


The Potter's Field
The Potter's Field
(John Natiw from Canton, MI and Rochelle Clark from Chelsea, MI) have been garnering a great deal of positive attention these days, and their debut CD, Pleasureville, has been receiving critical acclaim since its release last November. Tom Saunders, host of the FolkIt! program on A3Radio, calls this new CD "one of the best I've heard all year!" In August 2011, one of John Natiw's songs from the debut CD, "Don't Look Down When You Go," took first place at the Riverfolk Festival Songwriting Competion at The Ark.
Known for poetic, gritty lyrics, driving instrumental style (including acoustic and electric guitar, mandolin, harmonica, typical and non-typical percussion elements and the occasional kazoo), close and powerful vocal harmonies and easy stage presence, The Potter's Field surprises with new songs and ideas that sound familiar yet somehow nostalgic. They've played in venues and at festivals throughout Michigan, Ohio and Kentucky, including Trinity House Theatre in Livonia, The Village Theater in Canton, the NorEast'r Festival in Mio, Hollerfest in Brooklyn, Carrick House Concerts in Clarkston, Johnny's Speakeasy House Concert in Ann Arbor, the Ypsilanti Crossroads Summer Music Series, the Rust Belt Market in Ferndale, and Crazy Wisdom in Ann Arbor. The Potter's Field have also played on stage with such notables as Jill Jack, Billy Brandt, John Latini, and Sarana VerLin, and have opened for performers such as Dick Siegel and the duo of Jan Krist and Jim Bizer, as well as for Jill Jack at her CD Release event held at the Royal Oak Theater in May 2012.
Listen to The Potter's Field -
Pleasureville
and
Don't Look Down When You Go
Purchase
music by The Potter's Field
August 3


Dave Boutette
The scent of cedar, maple, and popple smoke hangs on Dave Boutette's clothes through summer and into fall. So much so, he's often teased by friends calling him "The Campfire Kid" while they try to make it to dawn around a circle of crackling log wood
.
The special intimacy that only comes from sharing firelight is where
Dave Boutette
finds his home. Songs of highway hijinks and wildcat oil drillers in the Michigan woods are as likely to be heard as old favorites that have been in your head and heart for years. For Boutette, it's the sharing of songs that holds all the magic. Come on over, join the circle, sing a tune, or stir the coals. You're welcome to hang until first light. Just be careful not to wake the folks in the tents.
Whether banging out a set of saloon songs at a Michigan watering hole, or settling back for an evening of singing at a fire ring afterward, Dave Boutette will hold listeners as long as they keep the lights on or until the rain starts. Stories, advice, observations, or raffles are as apt to appear during a performance as are his songs. Blending many schools of American roots and popular music including folk, blues, swing, and old time country, his songs testify to the power of true love, rebirth, snow plows, and migrating fish. If you get the chance, stand next to Dave. Besides feeling taller than you actually are, you may start to see some things in an entirely new light.
Listen to Dave Boutette -
Three AM
and
'til It Shines
Purchase
music by Dave Boutette
August 10


Lisa Pappas and Michael Weiss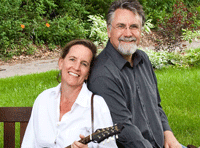 Nominated for a Jammie Award as "Best New Folk Artist" by WYCE- 88.1 in Grand Rapids in 2004, and featured on the "Over Easy" morning program on WCSX 94.7 in Detroit in 2005,
Lisa Pappas
is a Michigan born-and-bred Performing Songriter. Now residing in Ann Arbor, Lisa wrote her first song when she was 12. That was the same year she received her first acoustic guitar. She's been writing and performing music ever since—inspired by such artists as Bonnie Raitt, Patty Griffin, and e Indigo Girls.
Listen
to Lisa Pappas.
August 17


The Fortytwo
The Fortytwo
, is headed up by Burns Park resident and mother, Melissa Bruzzano, with Feter McBlues on guitar, Chad Sturdivant on drums and Dave Weber on Bass. They bring to the AnnArbor.Com Summer Concert Series Classic DanceRock, music reminiscent of the early 70s era rock bands but, with a modern funk and R&B backbeat. They subtly mix together rock, blues, funk, southern jam and other genres to make high energy, danceable yet soothing groove for every age group.
Listen to The Fortytwo -
Dance in the Sun
and
Going Home
Purchase
music by The Fortytwo.
August 24


Bob Skon Trio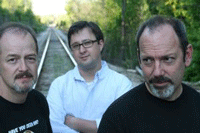 The
Bob Skon Trio
is an Ann Arbor band of three seasoned musicians with over 75 years combined experience. The Trio's original songs are defined by infectious melodies and smartly crafted lyrics, and their interpretation of beloved covers from songwriters such as Paul Simon, Bob Dylan and The Beatles are honest, yet fresh.
Watch and listen to the Bob Skon Trio on YouTube:
Not Great at One
and
Til I Stop Thinking About Her
Purchase
music by the Bob Skon Trio
August 31


The Thornbills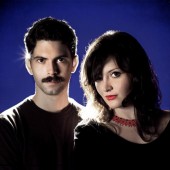 The Thornbills
are a folk/rock group featuring Tamara Finley and Jim Wiegand. In their early days, they had only played a few open mics and one live show in Detroit. Then,Jack White called them up to record a single for his label, Third Man Records. Since then, they've shared a stage with Wanda Jackson, The Black Belles, Jeff the Brotherhood, and Pujol to name a few. Their sound is an ethereal blend of American and Slavic folk styles, with a straightforward and thoughtful pop edge. They are known for the complexity and beauty of their impeccable harmonies, and a sound that defies adherence to any one genre.
Watch and listen to The Thornbills on YouTube:
Square Peg
Waking the Dead
September 7


Dr. Mike and the Sea Monkeys
Dr. Mike and the Sea Monkeys
are a folk and acoustic blues trio consisting of Mike Ball, Scott Clauser, and noted advice columnist Dr. Mike. Since Dr. Mike is a fictional character from Mike's nationally-syndicated humor column
What I've Learned... So Far
, he never really shows up for rehearsals or gigs, which means that the Sea Monkeys are actually a two-man trio. This makes them really energy efficient. Most of their music is original, based on and the books
What I've Learned... So Far Part I: Bikes, Docks & Slush Nuggets
and
What I've Learned... So Far Part II: Angels, Chimps & Tater Mitts
by Erma Bombeck award-winning humorist Mike Ball.
Watch and listen to Dr. Mike & The Sea Monkeys at:
Videos
on the Dr. Mike & The Sea Monkeys Site
Dr. Mike & The Sea Monkeys
Youtube Channel
Dr. Mike & The Sea Monkeys on
Facebook