Wrestler Kellen Russell, rower Felice Mueller named Michigan's 2011-12 Athletes of the Year
Posted on Mon, Jun 18, 2012 : 1:07 p.m.
Kellen Russell and Felice Mueller both made history this season.
As a result, they were both honored as the University of Michigan's best Monday.
Russell, a senior wrestler, and Mueller, a senior women's rower, received Michigan's 2011-12 Athletes of the Year award.
Russell won the award for the second straight year, becoming just the sixth Michigan athlete to grab the award twice, and just the second male to do so. Mueller, meanwhile, becomes the first rower in school history to earn the honor for a female athlete.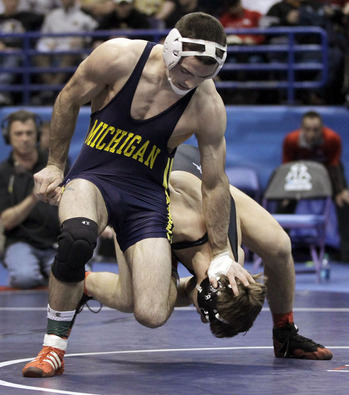 Associated Press
"Felice and Kellen competed at a high level in both their athletic competitions and in the classroom," Michigan athletic director
Dave Brandon
said in a statement. "Kellen won an individual national title and Felice led the rowing team to a runner-up finish at the national championship. Not only are they terrific athletes, both graduated from the University of Michigan and have earned academic honors along the way.
"Felice and Kellen are most deserving of the female and male athlete of the year awards."
Russell beat out Evan King (tennis), Craig Forys (cross country/track), Sam Mikulak (gymnastics) and Denard Robinson (Michigan football) to capture his second straight honor. He shared the honor with Mikulak a year ago.
The only other male athlete to capture the award two years in a row was swimmer Tom Dolan (1995-96). Ann Colloton (swimming, 1989-90), Sarah Griffin (softball, 1996, '98), Jennie Ritter (softball, 2005-06) and Tiffany Ofili (track, 2008-09) are the school's other two-time winners.
Last season, Russell won his second straight NCAA 141-pound national championship for the Wolverines. He was also named the co-Most Outstanding Wrestler of the Big Ten Championships and became just the 11th wrestler in league history to capture four Big Ten crowns.
Mueller, meanwhile, helped the women's rowing team to a program record-tying second-place finish at the 2012 NCAA Championships. Mueller also was named to the College Rowing Coaches Association Pocook All-America team, and grabbed the Big Ten Rower of the Year award in the process.
Mueller earned the honor over fellow nominees Emina Bektas (tennis), Amanda Chidester (softball), Kiki Golden (water polo) and Haylie Wagner (softball).
Michigan has honored a Male Athlete of the Year for each of the past 31 athletic seasons, and a Female Athlete of the Year each of the past 30.
The athletic department will continue to hand out its "MGoBlue.com Awards" throughout the next two weeks. Including: Freshman of the Year, Breakthrough Athlete of the Year, Coach of the Year and Team of the Year.