Crimson Tide win big
Alabama 41, Michigan 14 (final):

Your mega guide to the Michigan vs. Alabama Cowboys Classic

Posted on Sat, Sep 1, 2012 : 5:59 a.m.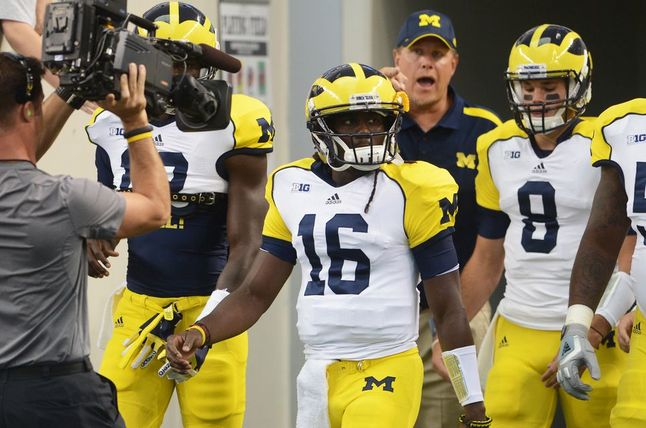 Melanie Maxwell | AnnArbor.com
ALABAMA 41, MICHIGAN 14: Horrendous first half stops Michigan football team in 41-14 loss to No. 2 Alabama
LIVE COVERAGE: Check out live updating game story on the Michigan football home page beginning at 7:30 p.m., and follow beat writers Kyle Meinke (@kmeinke) and Nick Baumgardner (@nickbaumgardner) on Twitter for live updates during the game.
WHO: No. 8 Michigan vs. No. 2 Alabama
WHERE: Cowboy Stadium, Arlington, Texas.
WHEN: 8 p.m.
ODDS: Alabama is favored by 13.5, according to sportsbook.com.
SERIES RECORD: Michigan leads 2-1.
LAST MEETING: Michigan won, 35-34 (OT), in the 2000 Orange Bowl on Jan. 1, 2000 in Miami. (Recap)
WEATHER: Temperatures expected to be in mid-90s at kickoff with 35 percent humidity and zero percent chance of precipitation. Cowboys Stadium has a retractable roof. (Forecast)
BROADCAST INFORMATION: TV: ABC; Radio: Michigan Sports Network (local affiliates).
AnnArbor.com coverage: Two of the most storied programs in college football, Michigan and Alabama, meet on Saturday for just the fourth time ever and the first time ever in a regular season game. With the game at Cowboy Stadium, no team has home field advantage, but the programs are accustomed to playing on neutral sites. All three of the teams' previous meetings have been in bowl games. Though it's not a bowl game this time around, with eight months of build up since Alabama won last year's BCS Championship, as you might imagine there have been plenty of story lines to keep up with. For your convenience, we've packaged most of them in one easy to read guide. Here's what you can find on our site:
Michigan's Fitz Toussaint, Frank Clark suspended for Alabama game
When the team arrived in Arlington on Friday, there were two very noticeable absentees: Fitz Toussaint and Frank Clark. Both had been suspended for after arrests during the offseason and neither will play against Alabama coach Brady Hoke revealed.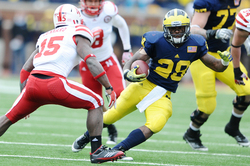 Brady Hoke hopes Fitz Toussaint, Frank Clark suspensions, 'saves another guy' in future
One day before leading Michigan against the No. 2 team in the country, coach Brady Hoke announced the suspension of one of his best players and a key reserve. Hoke explains why he thinks its the right call and hopes the decision saves a player from behaving similarly down the road.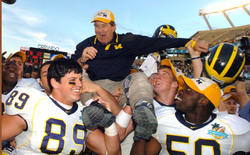 A historical look at 5 memorable Michigan football games vs. SEC opponents
Contrary to popular belief, Michigan has been quite successful over the years against SEC opponents. Here's a look at five of the most memorable UM vs. SEC matchups, including Lloyd Carr's last game as head coach and Tom Brady's overtime win against Alabama.
Michigan not worried about 'SEC speed,' Wolverines say they play just as fast as 'Bama
Speed kills, and when it comes to college football no conference is as deadly as the SEC. The Michigan players believe they play just as fast, though, and are looking forward to proving it to Alabama and the entire nation.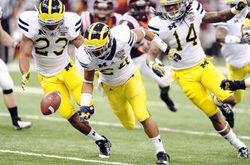 Opinion: Michigan will be a stronger team but win fewer games this year
Hoke set the bar pretty high for himself in his first year as head coach as Michigan won 11 games, including a BCS bowl. Read why the team may be better this year, but won't win as many games as they did last year. In addition to Alabama, road games against Notre Dame, Nebraska and Ohio State certainly don't help.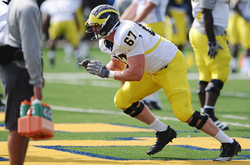 Michigan awards scholarships to 7 walk-ons during 'wild' team meeting
What's harder than playing the defending national champions in the season opener? Paying back student loans. Seven players found out this week that they don't have to worry adding to the latter anymore when the walk-ons were awarded scholarships.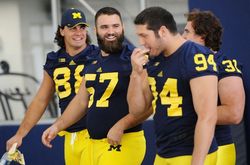 Finally a starter, Elliott Mealer is ready to 'pay back Michigan' for everything he's received
Some athletes think they should be compensated for everything they provide the school. Elliott Mealer is the opposite. After five years on scholarship but little on-field production to show for it, he feels its time for him to start paying the school back through his play and as a newly named starter is in position to do exactly that.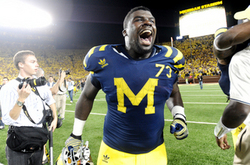 Will Campbell says Michigan's revamped defensive line not mismatched against Alabama
Alabama returns four starters on the offensive from the team that won last year's national championship. So what, says senior defensive lineman Will Campbell, who believes the perceived mismatch is overblown.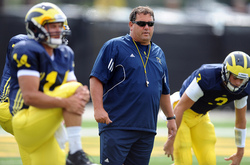 Brady Hoke 'comfortable' playing Alabama in the opener, doesn't feel like an underdog
Michigan is a 13.5 point underdog against Alabama on Saturday. So what, says Hoke. Hoke doesn't feel like an underdog against the Crimson Tide and likes the concept of playing high profile opponents right out of the gate.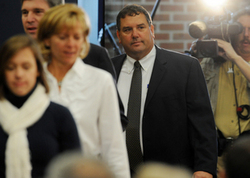 Family matters: Michigan coaches discuss the anatomy of their success
All coaches sacrifice family time, an ugly reality of big-time college football. But now that Brady Hoke's 53 years old and nestled in his dream job, he's trying to make up for lost time with his family and help his staff avoid the shortcomings he had coming up the ranks.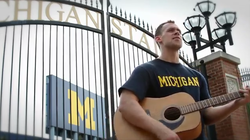 'I Love You Denard' gets music video just ahead of Michigan-Alabama game
Michigan fans have an understandable fascination with starting quarterback Denard Robinson. But a bromance to the level of local comedian Pat Stansik? That's on another level. Stansik released a music video this week to go along with his shoelaceless lullaby from earlier in the year.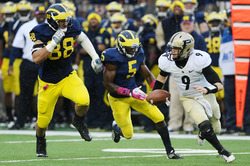 Opinion: 7 observations from Michigan's preseason depth chart
Fall camp practices were closed to the media, so who was winning the various position battles was anybody's guess. Until Monday that is, when the preseason depth chart was released. Here's what could be gathered from the release of that information.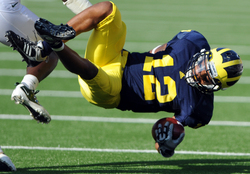 Michigan receiver Roy Roundtree is '100-percent' healthy, ready for Alabama
Roy Rondtree had arthroscopic surgery on his left knee during fall camp, but professes to be "100 percent" healthy and ready to roll. According to Roundtree, the surgery was minor and he was back at practice this week.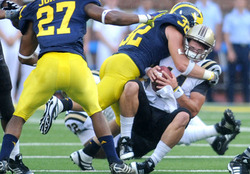 Michigan players vote Denard Robinson, Jordan Kovacs as team captains
Jordan Kovacs is a former walk-on. Denard Robinson, an introvert by nature. Now they're both senior captains for the Michigan football team with a common feature: leadership ability. Robinson and Kovacs were both voted captains by their teammates on Sunday and it wasn't a surprise to many.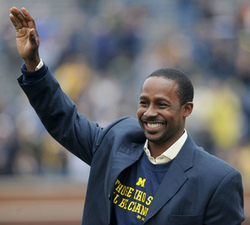 Desmond Howard believes Denard Robinson will win the Heisman Trophy
Former Michigan wide receiver Desmond Howard is the last primarily offensive Michigan player to win the Heisman Trophy. He doesn't think that will be for long as Denard Robinson is Howard's pick to win this year's award.
Opinion: Michigan has Big Ten-caliber freshmen at receiver, tight end, but that doesn't mean they're ready
Freshmen receivers Amara Darboh and Jehu Chesson have the talent to one day be big-time receivers, but does Michigan offensive coordinator Al Borges think they're ready yet? While on the subject, who will play tight end for the Wolverines this year?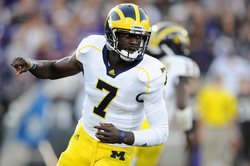 Report: QB Devin Gardner practices exclusively at receiver during Michigan scrimmage
Coaches said Devin Gardner was splitting his reps between receiver and quarterback. For one practice, at least, that was not the case as he played receiver the entire time. Hoke and Borges insist he is still the backup quarterback.
This and that
WHO YA GOT?
Associated Press preview capsule
WHAT'S AT STAKE: The first regular-season meeting for the traditional powers provides an opening challenge for both. For defending national champion Alabama, QB A.J. McCarron has to adjust to being without top RB Trent Richardson and a pair of experienced receivers. Michigan is coming off 11 wins in its first season under Brady Hoke that was capped with a victory in the Sugar Bowl. That was the Wolverines' first BCS bowl victory since the 2000 Orange Bowl, when they twice overcame 14-point deficits to beat Alabama 35-34 in overtime the last time they played.

KEY MATCHUP: Michigan dual-threat QB Denard Robinson vs. Alabama defense with some big changes. The Crimson Tide lost several talented defenders in the NFL draft, including All-America safety Mark Barron, top linebackers Courtney Upshaw and Dont'a Hightower, and both starting cornerbacks. Robinson ran for 91 yards per game with rushing TDs in 10 games, and his 15.3 yards per completed pass was the best in FBS last season.

PLAYERS TO WATCH:
Alabama: LB C.J. Mosley. Has a knack for big plays, including an interception in BCS championship game before leaving with a hip injury. Could be a key force in trying to defend against Robinson.
Michigan: WR Roy Roundtree. Robinson's most experienced receiver, coming off knee surgery, will need to create separation to help his shaky-armed quarterback. DT Will Campbell. The senior is getting a chance to anchor a defensive line that lost three starters and to prove he was worth the hype coming out of high school.

FACTS & FIGURES: Crimson Tide is 18-6 against AP Top 25 teams the past four seasons and 10-4 against those ranked in the Top 10. ... Michigan has won 12 straight games in the regular season against non-conference teams and 13 in a row in September, dating back to a 35-17 loss at Notre Dame on Sept. 13, 2008. ... Crimson Tide RB Eddie Lacy makes his starting debut, and Outland Trophy winner Barrett Jones starts his first game at center. ... Alabama has been ranked in the last 65 Associated Press polls, the longest current streak. ... Michigan is coming off its first season with double digits in wins since 2006.
Around the Big Ten
Minnesota 30, UNLV 27 (3 OT) (Recap)
Michigan State 17, Boise State 13 (Recap)
Western Michigan at Illinois, noon, ESPNU (Preview | WMU Coverage)
Ohio at Penn State, noon, ESPN (Preview)
Northwestern at Syracuse, noon, ESPN 2 (Preview)
Miami (Ohio) at Ohio State, noon (Preview)
Iowa at Northern Illinois, 3:30 p.m., ESPNU (Preview)
Northern Iowa at Wisconsin, 3:30 p.m. (Preview)
Southern Miss at Nebraska, 3:30 p.m. (Preview)
Eastern Kentucky at Purdue
Indiana State at Indiana>