Sports Illustrated puts Denard Robinson on the cover, but ranks MSU ahead of Michigan
Posted on Wed, Aug 15, 2012 : 3 p.m.
When local Michigan football fans receive their annual Sports Illustrated college football preview issue, a familiar face will adorn the cover.
None other than Wolverine senior quarterback Denard Robinson.
Robinson is one of five college football players to be awarded regional cover spreads in Sports Illustrated's annual preview. The other four were West Virginia quarterback Geno Smith, Alabama quarterback A.J. McCarron, Oklahoma quarterback Landry Jones and USC quarterback Matt Barkley.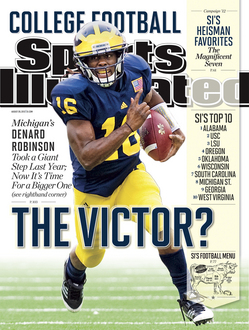 Sports Illustrated
Sports Illustrated's official Twitter account
released photos of all five covers earlier Wednesday.
Robinson's regional headline reads "The Victor?" With a sub-headline stating "Michigan's Denard Robinson took a giant step last year; now it's time for a bigger one."
The last time a Michigan player was featured as the main shot on the cover of Sports Illustrated's national college football preview was 2007, when former running back Mike Hart donned the front of the magazine's preview issue. Several weeks later, the Wolverines were stunned by Appalachian State in the season-opener at Michigan Stadium.
The Wolverines made the cover that week, too.
Former quarterback Tate Forcier appeared in the top right corner of the magazine on Sept. 21, 2009. But Minnesota Viking Adrian Peterson was the main shot.
Though Michigan received the spotlight on the cover, the Wolverines took a back seat to Michigan State in the publication's annual preseason rankings.
The Spartans chime in at No. 8, while Michigan sits at No. 13.