Fan's Little Brown Jug carries signatures of 6 Michigan football coaches
Posted on Tue, Sep 27, 2011 : 3:34 p.m.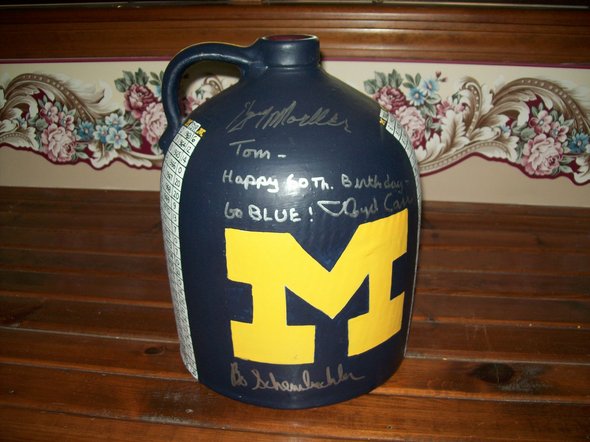 Courtesy of the Staroska family
Michigan football fan Dennis Staroska was looking for a Christmas present for his father when inspiration struck.
And what he did drops him into Little Brown Jug lore.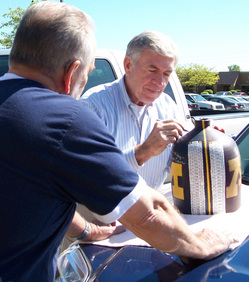 Courtesy of the Staroska family
Staroska and his father, Tom, are Michigan football fanatics. Dennis, who resides in Nashville, proudly boasts a "Michigan man cave" in his home. Tom, Dennis says, does as well at his home in Columbiaville.
In 2004, Dennis had the idea of creating a piece of Michigan football history for his father's man cave. He purchased a Red Wing jug and painted a replica of the Little Brown Jug, the traveling trophy of the Michigan and Minnesota football rivalry since 1909.
Tom Staroska's jug has it all. It has game scores and emblems of Michigan and Minnesota football on each side. Not quite the real thing, but basically as close as it gets.
What separates Staroska's jug from the rest, though, was that inspiration.
"We give it to dad and he loves it, but then he has the idea, 'What would be even cooler would be if we could get Lloyd Carr to sign this,' " Dennis recalls. "So I look at my wife, and she's like, 'We're going to make this happen.'
"We didn't know how, but we were going to do it."
And so began the journey of the Staroska family Brown Jug.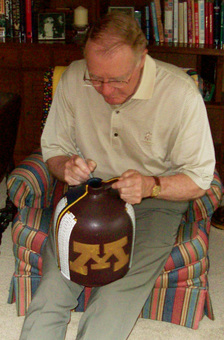 Courtesy of the Staroska family
In 2005, Dennis and his wife, Terri, snuck the jug out of Tom's "man cave" and began to fish around for Carr's autograph. They determined that the best plan would be to mail the jug to Schembechler Hall, hoping that Carr would give a signature and send it back.
Not only did Carr sign the jug, but he also passed it down the hallway to Bo Schembechler , who also signed it.
With two Michigan coaches' signatures, Dennis and Terry were ready to present the jug to Tom for his 60th birthday. Coincidently, the birthday party began at Michigan Stadium with the Wolverines and Gophers battling for the actual Brown Jug.
Michigan lost that day on a last-second field goal, but the party wasn't ruined, as Dennis wowed his dad with his updated piece of Michigan history that night.
"I've seen the man tear up twice in his life," Dennis said. "Once at his mother's funeral, and again when we (showed him the signatures)."
The journey of the Staroska jug continued. Tom has since acquired signatures from former Michigan coaches Bump Elliott (he drove to his home in Iowa, and got the signature there) and Rich Rodriguez, as well as current head coach Brady Hoke.
Not a bad Christmas present, and an even better piece of man-cave memorabilia.
Anyone else have any interesting Little Brown Jug stories? Feel free to comment below.