Report: Big Ten could expel Penn State; weighing proposal that would allow commissioner Jim Delany to fire coaches
Posted on Thu, Jul 19, 2012 : 9:40 a.m.
The ripples of the Penn State child sex scandal continue to spread, and it appears little is being left off the table -- including the possible ouster of the Nittany Lions from of the Big Ten.
The Chronicle of Higher Education is reporting Big Ten leaders are weighing a series of proposals in an 18-page plan prompted by the current situation at Penn State. Among the ideas being thrown around, according to one "Big Ten leader," includes removing the university from the conference.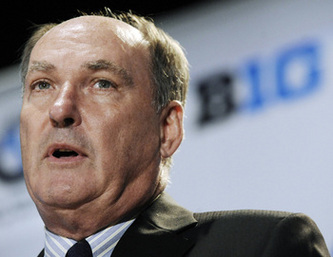 Associated Press
The Big Ten handbook requires at least a 60 percent vote from the league's Council of Presidents and Chancellors to expel a member, although a Big Ten spokesperson told the Chronicle that number will rise to 70 percent for 2012-13.
Another proposal on the table, according to the Chronicle report, would give commissioner Jim Delany the unprecedented power to fine, suspend or terminate staffers -- such as a coach -- who "interfere with normal admissions, compliance, hiring, or disciplinary processes."
Penn State's scandal prompted the proposal, according to the Chronicle. Jerry Sandusky, a former defensive coordinator for the Nittany Lions, has been convicted on 45 counts of child sex abuse and is awaiting sentencing.
Four top school officials -- president Graham Spanier, vice president Gary Schultz, athletic director Tim Curley and football coach Joe Paterno -- helped to conceal Sandusky's abuse, according to an independent report conducted by former FBI director Louis Freeh.
Although it's unclear what kind of punishment the football program could be facing, NCAA president Mark Emmert recently said he would not rule out the so-called "death penalty," which would force Penn State to drop the sport for a period of time.
The Big Ten does not have a "contingency scheduling plan" should the Nittany Lions be banned, a league official told The Chronicle.
Check out the full Chronicle report here.