College Football News:

Publication dubs Denard Robinson a 'mediocre passer,' says he's still the top QB in America

Posted on Wed, Jun 20, 2012 : 11:24 a.m.
Denard Robinson may never turn into a star quarterback at the next level, but for right now, that doesn't really matter.
His star-power is, apparently, plenty big enough.
College Football News named the Michigan football team's dynamic senior signal caller as its first-team All-American quarterback earlier this month, ahead of USC's Matt Barkley -- the potential top-overall selection in the 2013 NFL draft.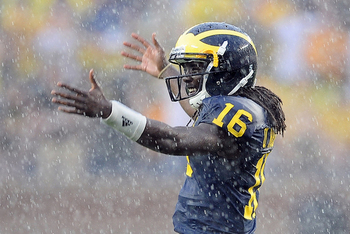 Melanie Maxwell | AnnArbor.com
"He's a mediocre passer -- completing 55% of his throws for 2,173 yards, 20 touchdowns, and 15 picks last season -- and he seems to have a habit of throwing bad interceptions at puzzling times, but any of the negatives are offset by his phenomenal playmaking skills," the publication explained. "He'll be a receiver at the next level with his Florida state champion-level, 4.32 sprinter's speed, and the coaching staff will still do what it can to make sure he won't take more hits than he has to, but he's the key to the season.
"This will be a great Michigan team, but it needs No. 16 to shine to be truly special."
Perhaps one reason CFN believes Robinson will have such a successful season is because of the protection he'll receive from his blind side.
The publication listed Michigan junior offensive tackle Taylor Lewan as a second-team member of its All-American squad, bringing more preseason praise to the hulking lineman -- a player many believe could be a first-round selection in the 2013 NFL draft.
"More of a leader coming into this season, this will be his line with center David Molk gone, and he seems to be taking to the role," CFN wrote. "With his size, athleticism and frame he has the potential to be among the top 50 picks in next year's draft and could be a first rounder with a great final season and if he can stay healthy."