Pressure builds for Michigan's Brennen Beyer to develop after suspension of Frank Clark
Posted on Sun, Aug 5, 2012 : 5:59 a.m.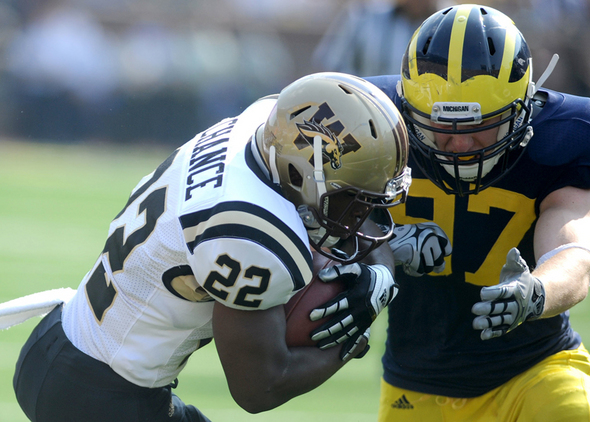 Angela J. Cesere | AnnArbor.com

The suspension of starting tailback Fitz Toussaint is disconcerting for a Michigan football team that faces the defending national champion in its season opener.

The Wolverines' options, should Toussaint not be available for that Sept. 1 game against Alabama, have been thoroughly sliced and diced in the past week.

But what about the possible loss of suspended weak-side defensive end Frank Clark, who was expected to contend for a starting job at one of Michigan's thinnest positions?

He has been accused of stealing a laptop from a Stockwell Hall dorm room and isn't scheduled to be back in court until Sept. 11. That puts his status in question for games against Alabama on Sept. 1 and Air Force on Sept. 8.

Michigan coach Brady Hoke said recently he has not yet determined whether Clark will miss time.

Clark's replacement, should one be needed, is known. How he will play is not.

Sophomore Brennen Beyer is coming off a season in which he was heavily praised for his growth in practice. Thing is, that came at strong-side linebacker, where he backed up Jake Ryan.

He made the move to weak-side end this offseason to shore up depth there after starter Craig Roh slid to the strong side and backup Jibreel Black was moved to tackle.

That left just Clark, last year's third-stringer, and Beyer at the position.

Now, it might be just Beyer to man a position that has lost at least its top-two players, and maybe a third.

How did he look in the spring, after making the move full time to defensive end?

"He was productive," Hoke said. "I thought he did a nice job. We challenged him to get a little stronger, to get a little bigger, and I think he's done a nice job of that. The productivity he showed during the spring is just scratching the surface of what he could be."

Beyer weighs 252 pounds. Roh played the position last year at 269.

That means technique will be of paramount importance for him -- and it seems to be coming along.

"His technique has gotten a lot better," said left tackle Taylor Lewan, who matched up with Beyer every day during spring ball. "As an offensive tackle, you don't want your shoulders to get turned ... and he's done a nice job of getting the tackles' shoulders turned. I think he's made a lot of gains."

Roh began his career as a linebacker as well, and made the move to end quite capably. Now a senior, he has not missed a start since first cracking the lineup in the 2009 season opener against Western Michigan.

He's accumulated 112 tackles -- 21 for a loss -- 6.5 sacks and three forced fumbles. The rest of the projected defensive line starters combine for 55 tackles -- five for loss -- 3.5 sacks and one forced fumble.

And one start.

The other ends combine for none.

Michigan will try to develop depth at the position during fall camp, which opens Monday. That work starts with Beyer, whose chances of making his first career start appear to be growing.

Simply put: He might be the Wolverines' only choice, if Clark's legal entanglements continue.