Ondre Pipkins attends Michigan football practice without neck brace hours after sustaining neck injury
Posted on Fri, Aug 17, 2012 : 6:45 p.m.
This story was updated at 7:20 p.m. to include tweets from Ondre Pipkins.
Michigan freshman defensive lineman Ondre Pipkins was carted off the practice field Friday and taken to U-M Health System after sustaining a neck injury, a scary injury in a violent game.
Hours later, he appears to be doing well.
"I want to thank everyone for the get well wishes, thoughts and prayers," Pipkins tweeted Friday evening. "i love you guys and will be back in no time thanks and #GoBlue
"You must have forgot I'm a Transformer #FerGodSakes #PeeWeePrime #GoBlue"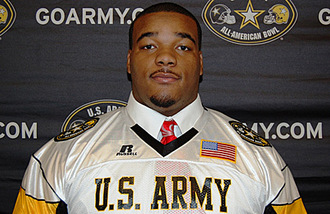 Courtesy U.S. Army All-American Bowl
Pipkins requested earlier in camp that teammates call him "Pee Wee Optimus Prime," which alludes to the "Transformers" series.
Justin Dickens, a spokesman for the football program, said Pipkins attended the Wolverines' afternoon practice Friday after being discharged from the hospital. He was walking around, and did not require a neck brace.
Further details of Pipkins' injury were not available. A timetable for his return to practice is unknown.
Michigan coach Brady Hoke typically addresses injury matters himself. His next media availability is Tuesday.
Pipkins, 18, is a freshman defensive lineman from Kansas City. The five-star recruit, who stands 6-foot-3, 340 pounds, is competing for time behind starting tackle Will Campbell.