Now a senior, Roy Roundtree says he's fully aware of what it means to be a wide receiver at Michigan
Posted on Wed, Aug 8, 2012 : 9:35 a.m.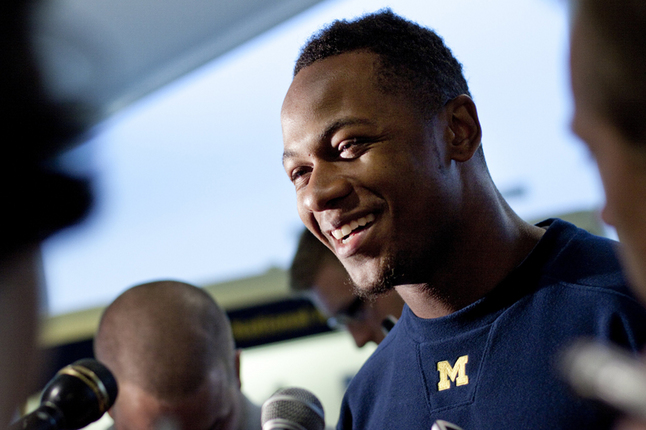 One of Michigan football coach Brady Hoke's favorite sayings has to do with expectations.

Expectations, he says, have less to do with an individual, and everything to do with the overall bar set by the program.

For Roy Roundtree, the search for what it means to be a senior wide receiver at Michigan starts when he puts on his jersey, and stops when he tucks it in.

Roundtree now wears No. 21. The same number Desmond Howard wore during his Heisman Trophy-posing career that ended two decades ago.

Twenty-one years ago, to be exact.

"Our expectations (here) are big," Roundtree acknowledged. "To play wide receiver (at) Michigan (means a lot)."

Roundtree's 53-catch dip from 2010 to 2011 was the largest year-to-year catch drop by a wide receiver in Michigan history.

Couple that number with the fact that the Wolverines lost their leading pass-catcher from a year ago, Junior Hemingway, and most believe there's definite cause for concern with regard to Michigan's receiving depth.

Asked whether or not he was tired of hearing that, Roundtree said not really.

He's confident he and the rest of his group -- a stable he's responsible for leading -- will be fine.

"I know we lost Junior and Kelvin Grady and (Martavious Odoms), but we've still got great athletes at wide receiver," he said. "They probably won't be as big as Junior, but (we'll be Ok)."

With Hemingway gone, Roundtree has moved into the team's flanker spot -- the key pass-catching role in offensive coordinator Al Borges' offense.

Roundtree says the transition to flanker from split end hasn't been that big of a deal to this point, despite the idea that it comes with more responsibility.

Why is he so confident?

Well, most of it lies with improved timing and chemistry with senior quarterback Denard Robinson. Roundtree and Robinson say they're leaps and bounds ahead of where they were last season at this point in the timing department, mainly because they aren't spending the bulk of their time learning a first-year offense.

"I think I feel (more) relaxed right now," Robinson said. "Last camp, it was more about trying to learn (the offense) and play as fast as I can.

"(This year) I feel more relaxed."

On paper, Michigan's wide receiving corps looks thinner than it did a year ago -- which isn't a good thing, as the 2011 group was far from deep.

But Roundtree's not worried. He suffered a massive pass-catching drop a year ago, but still made 72 grabs as a sophomore in 2010.

With a new position and better timing with his quarterback, he's confident he can return to his old ways during his last go-around in Ann Arbor.

"I felt like I took all of (coaches' instruction) under consideration and ran with it in the summer," he said. "(This season), I feel like I'll do pretty well."