NCAA strips Joe Paterno of his 2011 Gerald R. Ford Award
Posted on Mon, Jul 23, 2012 : 11:33 a.m.
The NCAA's hammer drop on the Penn State football program Monday and subsequent sting on the legacy of late former coach Joe Paterno does indeed have a Michigan football tie.
According to multiple reports, the NCAA has stripped Paterno of his 2011 Gerald R. Ford Award, an honor named after the Grand Rapids-born president who starred on the football field for the Wolverines in the early 1930s.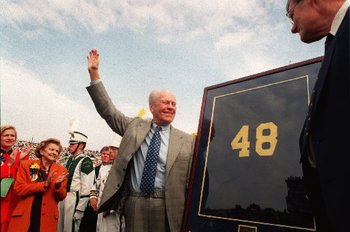 AnnArbor.com file photo
By definition, the Gerald R. Ford Leadership Award is given to an "individual who has provided significant leadership as an advocate for intercollegiate athletics on a continuous basis during the course of their career."
After winning the award in 2011, NCAA president Mark Emmert applauded Paterno for his leadership on and off the field, as well as his "personal accountability is a terrific example of everything the NCAA stands for."
"Coach Paterno has distinguished himself to the world by his wins on the field, but he has endeared himself to thousands of student-athletes who have learned through his leadership that success in the classroom and in life is the greatest accomplishment," Emmert said at the time. "For me, Coach Paterno is the definitive role model of what it means to be a college coach."
Earlier Monday, Emmert had a much different tone with regard to Paterno and the Penn State program, as he announced the NCAA sanctions levied against the former coach and university for its role in the Jerry Sandusky child molestation tragedy.
Ex-Tennessee women's basketball coach Pat Summitt won the Ford Award in 2012. Other winners include Myles Brand, John Wooden and Billie Jean King.