Michigan WR Jerald Robinson delays hearing on destruction of property charge for second time
Posted on Mon, Jun 4, 2012 : 9:48 a.m.
Michigan football sophomore receiver Jerald Robinson, facing a malicious destruction of property charge, has delayed his pretrial hearing for a second time.
Robinson is accused of destroying a parking gate Feb. 4, with the damage totaling between $200 and $1,000. Douglas E. Lewis, Robinson's attorney, requested the hearing be moved to June 25 as he tries to locate a videotape.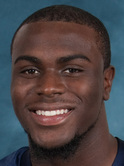 Judge Elizabeth Pollard Hines of Ann Arbor's 15th District Court granted the request.
Robinson arrived late for the hearing, and did not appear before the judge.
The sophomore from Canton, Ohio, participated throughout Michigan's spring camp and is considered a favorite to start at receiver next year
Robinson is one of two projected starters who currently is facing malicious destruction of property charges. Defensive tackle Will Campbell faces one felony and one misdemeanor count after allegedly damaging a car by sliding across the top of it.
The status of Robinson and Campbell with the Wolverines has not changed.