Michigan OC Al Borges: Fitz Toussaint 'looked good' in return to practice
Posted on Tue, Aug 14, 2012 : 1:06 p.m.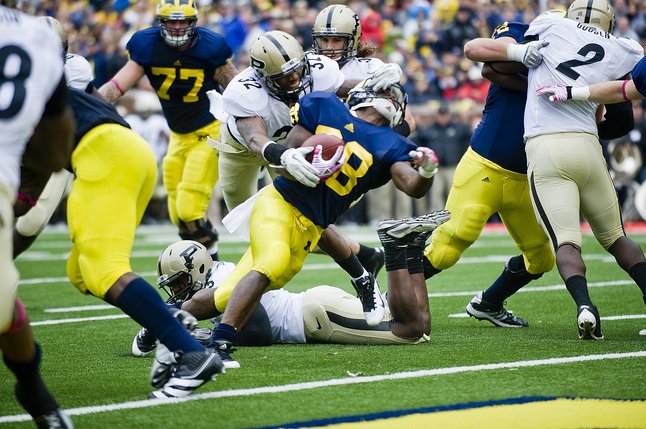 Joseph Tobianski | AnnArbor.com

Suspended Michigan tailback Fitz Toussaint didn't miss a beat in his camp debut Monday, despite sitting out the first week of practices.

"He's looked good," offensive coordinator Al Borges said Tuesday during a news conference at Schembechler Hall. "Fitz is Fitz. There hasn't really been any difference and he's in great shape.

"He just looks like Fitz to me. No more, no less."

Toussaint was held out of the Wolverines' first seven workouts following an offseason drunken-driving arrest. Although he's returned to practice, he remains suspended indefinitely and his status for the season opener against Alabama is unknown.

The Youngstown, Ohio, native is facing one misdemeanor charge of operating a vehicle while intoxicated and is slated to be arraigned in a Saline courtroom Aug. 28, four days before Michigan faces the Crimson Tide.

Coach Brady Hoke said recently he was not concerned about Toussaint missing the first week of workouts because "he's played a lot of football." He rushed for 1,041 yards last year, his first season as the starter.

Borges saw some of that Monday.

"He's on top of things in our offense," the second-year coordinator said. "He's a smart kid, and he's done it enough. From an Xs and Os perspective, I think Fitz will be fine."

Running backs coach Fred Jackson said Toussaint is in even better shape for his junior season, after putting on almost 10 pounds while also increasing his speed.

Coaches gave Toussaint a plan to stay sharp while he missed workouts. Now that he's back, Jackson said he's been told to prepare Toussaint as though he will play against Alabama.

"Brady just said to prepare him, and that's what we're doing," Jackson said. "I treat him like nothing happened. I'm preparing him, because the kid made a mistake, he's paying for it and I think I got to treat him as if everything is just status quo so he's ready to go."

For now, Toussaint is getting a "balanced" diet of reps at tailback, Borges said. Backups Thomas Rawls, Vincent Smith and Justice Hayes had been absorbing Toussaint's reps in his absence.

Rawls, a sophomore with 13 career carries, is expected to be the featured back if Toussaint is unavailable against Alabama.