Michigan's Fitz Toussaint, Troy Woolfolk dealing with previously undisclosed injuries headed into Notre Dame matchup
Posted on Sat, Sep 10, 2011 : 12:17 a.m.
Michigan football coach Brady Hoke said Friday night that top cornerback Troy Woolfolk and starting tailback Fitz Toussaint are dealing with previously undisclosed injuries.
Both remain probable to play against Notre Dame on Saturday (8 p.m., ESPN).
Woolfolk, a senior cornerback who played only one series last week after he sprained his left ankle on kickoff coverage, suffered a hand injury at Thursday's practice.
"But he's running around and he's doing everything we need him to do," Hoke said in a video published by the school.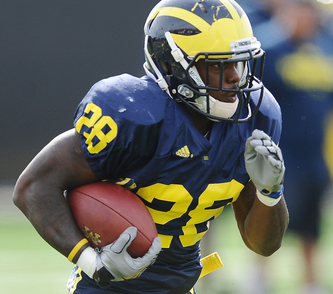 Hoke did not say this week whether Woolfolk, who also missed all of last year after breaking his right leg and ankle, would be back on kickoff coverage against the Irish, but did say he expected Woolfolk to return at cornerback.
The Wolverines will need him, as they are tasked with defending star Notre Dame receiver Michael Floyd.
"You have a guy who's a senior, has some maturity to him," Hoke said of Woolfolk. "So, it should be good to have him."
Hoke also said Toussaint, who had 11 carries for 80 yards and two touchdowns in his debut last week as Michigan's lead tailback, is "a little beat up."
"But he's done a good job and we'll just see where he's at," Hoke added.
Senior Michael Shaw is Toussaint's primary backup. He had four carries for 54 yards and one touchdown against Western Michigan.
Starting linebacker Cam Gordon also is dealing with a balky back and his status against Notre dame is uncertain. Hoke did not address the sophomore in the video.
Other topics covered by Hoke in the video:

On the starter at left guard: Hoke said starting junior Ricky Barnum, who did not play last week due to a "team issue," has reclaimed that spot. Sophomore Michael Schofield also was considered a candidate after playing well as Barnum's fill-in against Western Michigan.
Will the rain affect Saturday's game? "I don't think so. We played in it last week, we practiced all day in it Wednesday, so I don't think it makes a difference."
On practice this week: "Got to play a lot better a lot of different positions, defensively against the run and in the kicking game. So, believe me, we have a lot to hone in on. … Our Wednesday practice was as good as anything, had a lot of physicalness to it."
On preparing for Saturday's game: "It's a long day for the kids and it's a long day for the coaches." Hoke has said he's concerned with keeping his players fresh before the late kickoff. He said this week they would watch film, which they don't normally do, and also go for walks around the team hotel to stay loose.