Michigan corner J.T. Floyd taking film study to new level, and the shower
Posted on Fri, Aug 17, 2012 : 5:59 a.m.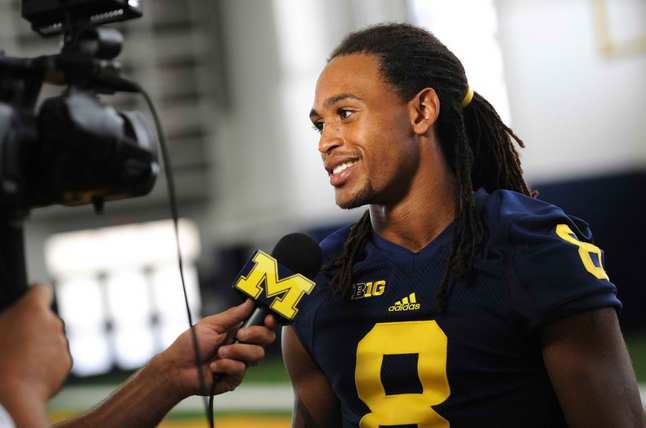 Melanie Maxwell | AnnArbor.com

When Michigan cornerback J.T. Floyd has a bad game, he tries to wash away the sting by studying film.

Other times, he just washes while studying film.

Floyd said during the grind of last season, he twice watched film on his laptop while taking a shower at his apartment. He called it "multitasking."

"While I was taking a shower, I had the plays just running -- just watching practice, actually," Floyd said with a laugh after Thursday's preseason workout. "I was working on a tight schedule. I had an exam the next morning, so I was in a time crunch and had to do what I had to do.

"Dual purpose, man. I always like to do two things at one time."

The key to watching film in the shower, Floyd says: "I got the computer away from me by the sink ... but you have to have a clear curtain."

Michigan players have talked at length about ramping up film study under defensive coordinator Greg Mattison. Former defensive lineman Mike Martin said last season he was watching as much as 3.5 to 4 hours of film per day, much of it on his own.

Even out of season, safety Jordan Kovacs said he was watching Alabama film while in physics class.

But Floyd is taking it to a whole different level.

And it's paid off.

Floyd was solid in 2010, but developed into one of the Big Ten's better corners last season as a junior. He finished with a team-high eight pass breakups and shared the team lead with two interceptions.

He finished second in the league in passes defended (which is calculated by adding breakups and picks) and was named All-Big Ten honorable mention by the coaches and media.

Floyd submitted his name to the NFL Draft Advisory Board after the season to gauge his pro stock, but elected to return to the Wolverines for his senior season. He said he was told by the board to work on his consistency.
Melanie Maxwell I AnnArbor.com
After all, for as good as Floyd was last season, he also had lowlights. The Iowa game was particularly bad.
Floyd was matched up for much of that game with the Hawkeyes' Marvin McNutt, and the wideout ran roughshod over him, finishing with a season-high nine catches for 101 yards. Michigan lost 24-16.
"I played terrible that game, actually," he said. "I think about that game often. Talk about film study -- I probably watched that game for about 20 hours."
That work paid immediate dividends, as Floyd came back the following week and shut down Illinois' A.J. Jenkins -- who became a first-round NFL draft pick just a few months later.
"I took that Iowa game extremely personal," Floyd said. "I took it as, 'I need to step my game up.' So I came back the next week and had a big matchup in that Illinois game, and I played well."
Now a senior, Floyd is a veteran leader in a secondary that returns each of its key pieces: Senior safety Jordan Kovacs, junior safety Thomas Gordon, sophomore cornerback Blake Countess and Floyd.
Floyd teamed up last year with Countess to form one of the league's better one-two punches at the position. Michigan finished 16th nationally against the pass, after ranking ninth-worst in 2010.
"I think they push each other," coach Brady Hoke said of his starting corners. "I think the consistency is always something that we've got to keep having out there. That's kind of a position where you're on the island, everybody sees it when you falter. But I think they both improved."
One thing that could help the secondary find consistency: For the first time in any of the players' careers, Michigan is running the same defensive scheme for the same coaches in consecutive years.
"It helps with the scheme of the defense, just picking things up a lot fast, especially in the meeting rooms when coaches install new plays and things like that," Floyd said. "Just a lot more crisp, a lot sharper."
And of course, there will be lots of film sessions.
"Film is my favorite movie," Floyd said with a smile.