Michigan coach Brady Hoke happy he was able to share a special 2011 season with his father
Posted on Sat, Jul 28, 2012 : 9:30 a.m.
CHICAGO -- John Hoke only got one year to see his son fulfill a lifelong dream.
But what a year it was.
John, the father of the second-year Michigan football coach Brady Hoke, passed away in March -- just 14 months after watching his son become the face of the Wolverine program.
While it's no doubt unfortunate that Hoke's father won't get to see how his career in Ann Arbor unfolds over the years, he says he's pleased he was able to create so many lasting memories with his dad during the one season he was able to witness.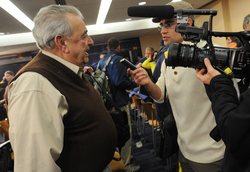 Melanie Maxwell I AnnArbor.com
"Oh, he had a great season," Hoke said Friday during Big Ten media days in Chicago. "He had a great season, he had a great Sugar Bowl and I'm happy he had that.
"It was a good year for him."
As good as Hoke's debut season at Michigan was, though, he said he often times failed to meet the high football-IQ standards his father had.
John Hoke played college football at Miami-Ohio for legendary coach Woody Hayes, and spent time as a coach at the high school level -- and eventually passed on several gridiron lessons to both his sons, Brady and Jon (an assistant with the Chicago Bears).
Hoke said he remembers plenty of postgame conversations with his dad over the years that resulted in him doing an awful lot of listening.
Even last season during the Wolverines' 11-2 run that ended with a Sugar Bowl championship.
"He was a great father, a great mentor and a person who loved football," Hoke said. "He's got two boys who coach football, and he would coach us up after a game, I can tell you that."
"It'd be 'why'd you do this? Why'd you do that? That guy didn't play very good? Who's coaching that?' And usually, that (coach) would be me. He was a coach, right until the end."
A lot of that coaching from John seems to have paid off, as Hoke didn't just match Fielding H. Yost for most victories by a rookie Michigan coach, but he also seems to have created an ultimate family-first bond within the Wolverine locker room.
"Everybody on the team was there for him (when his father passed)," Michigan quarterback Denard Robinson said of Hoke. "We're a family here.
"He was our father, too."