Michigan's 1997 national title team still remembers that magical feeling, 15 years later
Posted on Mon, May 21, 2012 : 5:58 a.m.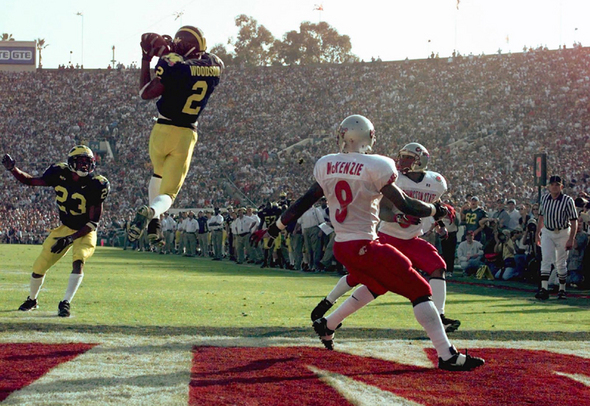 Associated Press file photo
Fifteen years ago, Chris Floyd was on top of the world in Pasadena, Calif.
The Michigan football team had just completed a perfect season. Floyd, a senior fullback at the time, would soon get fitted for a national championship ring and join his teammates in becoming one of the most beloved clubs in Wolverine history.
On top of the world, indeed.
Only at the time, he really didn't know it.
"I remember walking off the field at the Rose Bowl, knowing my career was over here," Floyd recalled. "Then, it was on to the next thing, and I was ready to go."
It's been 15 years since Michigan's magical 1997 run. When asked about his memories of that season -- and its culminating victory over Washington State in the Rose Bowl -- Floyd's face immediately lights up with a sense of pride.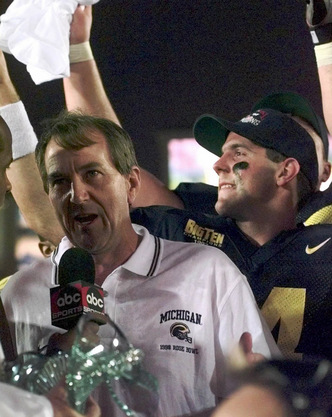 Associated Press file photo
Just like as it surely did all those years ago in the California twilight.
Although now, an older, more appreciative Floyd finally understands just how special that moment -- and that team -- was.
"Once you're gone and you get away from football, you really realize how special it was," Floyd said Sunday prior to the Charles Woodson-Brian Griese-Steve Hutchinson golf outing to benefit C.S. Mott Children's Hospital. "I kind of missed out on a lot of things because I didn't really realize how special it was then.
"But now, I get it. It was a special time."
Special indeed. The 1997 Wolverines had just about everything.
A dynamic defensive back in Heisman Trophy winner Charles Woodson, a cool-headed veteran quarterback in Brian Griese, a stable of running backs, a dominant offensive line and pro-level prospects just about everywhere on one of the most dominant defensive units the school has ever known.
Thirty-one players from that team spent time in the National Football League. Six of them earned Pro Bowl nods and five won Super Bowls.
Time has flown by, most say, but the memories of playing together in Ann Arbor that year are as fresh as ever.
"I was thinking about it last night, just looking around and seeing how much we've all aged," former Michigan and current Detroit Lion offensive tackle Jeff Backus said. "But, honestly, it still seems like yesterday. Time flies by, but that '97 season feels like yesterday.
"Those were good times, the best times of my life were here at Michigan."
Most players have their own memories of that season, and no two likely remember the year the same way.
Former Michigan linebacker Dhani Jones says he has only put on his national championship ring one time. He gave it to his mother, where it stays to this day.
He doesn't have the hardware, and tries his best not to live in the past, but says it's tough not to remember 1997.
"I (remember) the last game, the championship game," Jones recalled. "The last couple seconds, it was the last couple moments when everything came down. You remember your heartbeat, you remember the anxiety and the moment where the ball was in the air -- that whole stadium being kind of quiet, or maybe it was loud, you don't remember that. You just remember the fact that you won.
"(I remember the last play) seeing everything sort of happen and unfold and it was this beautiful picture that was designed the way you always wanted it to be."
Several members of that national title squad were in Ann Arbor this weekend for the Mott Hospital benefit, giving them a chance to relive old memories, rekindle friendships and playfully mock each other about graying hair.
There aren't many chances for players from that era to reunite, but Floyd says it needs to happen whenever possible.
The 1997 squad was -- and still is -- a very important part of Michigan's football history, Floyd says, and even 15 years later it remains a powerful group.
Now that Brady Hoke, who also has a championship ring from that season, is in charge of the program, Floyd says reunions like this past weekend's are even more important.
"Brady Hoke was a coach on that team, and it's very important now that he's the guy, that we all stand behind him and come back whenever we can," Floyd said. "People want to be around us, to meet us and know what's going on in our lives.
"We all know coach Hoke. When you go out and you get a guy that's not a Michigan man, it creates some walls and some blockage in the whole pipeline. But with Coach Hoke back, everyone knows him and they know they're all welcome back."