Josh Furman, scratched from spring camp, searching for place in loaded Michigan secondary
Posted on Thu, Aug 23, 2012 : 5:58 a.m.
Jeffrey Smith | AnnArbor.com

Michigan sophomore safety Josh Furman was held out of spring ball while on trial for three charges -- charges for which he later was found not guilty.

But there's no getting back those lost reps. Reps that are crucial for young players' development.

"It was depressing, that it was just a big misunderstanding, but that I couldn't practice and get better," Furman said recently. "At the same time, I had to go follow the rules with Coach (Brady) Hoke, and I understood how he felt about it, wanting to go through the judicial process.

"It was something I had to learn from."

Furman was arrested Feb. 11 on charges of domestic violence, assault and breaking and entering, but Judge Elizabeth Pollard Hines ruled the prosecution did not surpass reasonable doubt.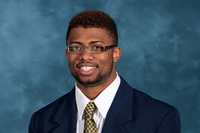 The sophomore was reinstated by the Wolverines, but spring practice already had concluded. Furman said missing the workouts "didn't really set me back."
Yet, spring ball is an important time for young players. There are no game plans to implement, so reserves receive more reps -- and, in turn, more seasoning -- than they do during the bustle of the season.
Furman played in 12 games last season, but only two on defense. He recorded 10 tackles and blocked one punt.
He is fighting for time in a crowded secondary -- a good problem, and one the Wolverines haven't had in years.
Twenty months ago, Michigan played a game against Ohio State in which seven of its top 10 defensive backs were true freshmen. Two of the other three were walk-ons.
This year, Michigan returns each of its primary starters in the secondary: corners J.T. Floyd and Blake Countess and safeties Thomas Gordon and Jordan Kovacs.
At safety, Gordon said he is backed up in practice by freshman Jarrod Wilson, while Kovacs is backed up by junior Marvin Robinson and Furman.
And they're all running the same defense as last year. For a group that relies heavily on communication, that kind of consistency could play dividends.
"It's a good feeling, because now we have more experience and now we have more guys who come in to fill that void," Furman said. "The year before, we didn't have a lot of bodies to back us up, so in practices it was kind of hard.
"I think everyone's always trying to take a step forward, but in the secondary, we're more experienced, we've been here for quite a while now. It just feels comfortable."
Defensive coordinator Greg Mattison has seen growth from his defensive backs. He said Robinson has had a particularly good camp, but has seen growth from Furman as well among the reserves.
"I can't put the number of consistent plays he has, but I can tell you this: There's more consistent plays, or winning plays, out of him now than there were last year," Mattison said.
Furman said his brush with the law was "the greatest adversity of my life," and that he's learning from it.
"It's just the fact that if you be at the wrong place at the wrong time, something like that can happen," Furman said. "Since I got re-instated, I feel like I turned that page and not looking back. I feel like I'm a better person on and off the field."