Former players: Brady Hoke's affection for individual players makes him a great college coach
Posted on Fri, May 18, 2012 : 1:08 p.m.
Melanie Maxwell I AnnArbor.com
Brady Hoke's headset, or lack thereof, became a popular topic of conversation last season.
Shortly after his first game on the sidelines as the Michigan football team's head coach, writers, casual fans and message board bloggers began to wonder aloud why Hoke patrolled the sidelines without being connected to coaches in the pressbox.
Was he fully involved in the game? Did he have any input on play-calling? Why wasn't he wearing a headset?
Hoke, as expected, never really discussed the matter. But those who played for Hoke once upon a time didn't need an explanation. They already knew what was going on.
"That's him trying to resonate and connect with people without a communicative device, but through (people's) eyes and through verbal communication," former Michigan linebacker Dhani Jones said Friday during WTKA's Michigan football Mott Takeover charity drive. "Being able to feel the crowd, feel the energy, he doesn't want (the headset) to get in the way.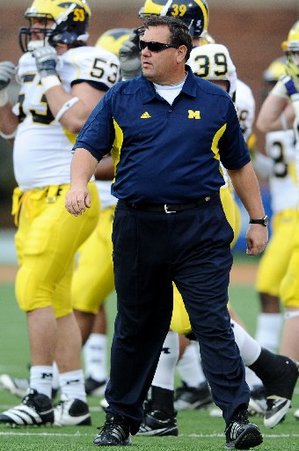 Melanie Maxwell | AnnArbor.com
"That's the way he coaches, that's the way that the team plays, and the way that the team has been successful."
Hoke's first season at Michigan obviously went well. The Wolverines went 11-2, won a BCS bowl game and snapped a gaudy losing streak against arch-rival Ohio State.
Some were surprised, others were shocked. But former players were not. Those who played at Michigan during Hoke's tenure as a defensive assistant coach (1995-2002) insist that Hoke's ability to relate with players on a personal level will always win out.
In this case, sooner rather than later.
"Before (he even coached) a game, we were like, 'We're good,'" former Michigan tight end Tim Massaquoi said. "We played for him, we knew. A lot of people didn't know, but once you play for him, we knew we were good.
"We knew the players were going to buy in, we knew he was going to get some great recruits, which he did."
Massaquoi came to Ann Arbor in 2002, which happened to be Hoke's final year as a Michigan assistant.
A youngster from Pennsylvania who played on the offensive side of the ball, Massaquoi had very little in common with Hoke -- a defensive line coach.
But that didn't stop the pair from getting to know one another. Because Massaquoi was still a part of the team, and Hoke made it his mission to get to know everyone inside the program -- no matter their position.
"He was always that person who had that personality that draws everybody (in), that's always been the thing with coach Hoke, you always knew he was genuine," he said. "He's just had that personality, he's like your best uncle -- somebody you know genuinely cares about you and you knew he had your best interest at heart.
"I played with him for one year, and he wasn't even my coach. He hugged everybody and let you know that he was there to see you succeed. That's the one quality we knew we were getting and we were happy about it."
Melanie Maxwell I AnnArbor.com
As a linebacker on Michigan's 1997 national championship squad, Jones obviously spent much more time with Hoke.
And more than any technique or defensive philosophy, Jones' biggest takeaway from his playing experience with Hoke was his care level -- a characteristic he says makes Hoke an elite-level college football coach.
"I think sometimes people feel like maybe coaches don't necessarily want to know about everything else that's going on in your life," Jones said. "When Brady makes a point to have a relationship with someone or one of his players, he really wants to know about you. And I think that makes you want to play even harder for him.
"He's always giving out kisses. My face has been littered with them from him. He's an affectionate guy, an affectionate coach and a father figure to many people."
Expectations for Hoke's sophomore act as head coach couldn't be higher.
The Wolverines won 11 games last year, return plenty of playmakers on offense and defense and also play one of the country's most difficult schedules -- starting with defending national champion Alabama on Sept. 1.
But his former players aren't concerned.
Hoke is special, they say. And they're confident he'll be able to consistently replicate his successful debut.
"We're sort of rebuilding the cracked foundation, if you will, of the last couple years," Jones said. "You'll find a lot of people are coming back, people are starting to talk about Michigan in a different way. Obviously the recruiting is indicative of the leadership that is now present here at the University of Michigan.
"I think it will be indicative in terms of the way we play the game, just like we played last year."
Massaquoi agreed, saying it's only a matter of time before Hoke -- headset or not -- brings Michigan back to where he and his fellow alums expect the program to be.
"We, as alumni, are excited," he said. "We think we're along the steps of getting back to competing at that national championship level.
"I don't know if we're there right now, but we're taking the right steps in that direction."