Ex-Michigan football player Corwin Brown pleads guilty in 2011 police standoff case
Posted on Thu, Jun 28, 2012 : 11:59 a.m.
Former Michigan football player Corwin Brown reached a plea agreement Thursday to charges of striking his wife and holding her hostage in 2011, The Associated Press is reporting. Brown pleaded guilty to the charges but also plead mentally ill to the confinement and domestic battery charges.
Per The Associated Press, prosecutors in Brown's case agreed to drop the confinement charge.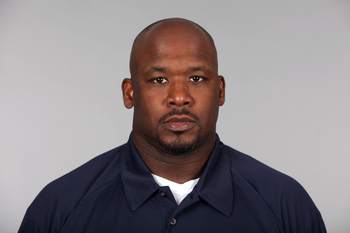 Associated Press
Prosecutors originally said that on Aug. 12, 2011, Brown held his wife hostage with a handgun and bruised her during a seven-hour standoff with police near his home in South Bend, Ind.
Brown, also a former Notre Dame assistant football coach, was eventually hospitalized with a self-inflicted gunshot wound after the standoff.
On Thursday, St. Joseph County Judge Jane Woodward Miller reportedly said she will decide whether or not to accept Brown's plea deal, which comes with a recommended four-year prison sentence.
Throughout the trial, Brown's family has maintained his actions might have stemmed from a brain trauma suffered from his football career.
After playing at Michigan from 1989-92, Brown had an eight-year career with the NFL -- playing with New England, the New York Jets and Detroit.
A co-captain and All-Big Ten selection at Michigan in 1992, Brown was a two-year starter with the Wolverines, totaling 150 career tackles and three interceptions.
He helped Michigan to a 38-31 Rose Bowl victory over Washington at the end of the 1992 campaign.