Dave Brandon supports Mark Emmert's Penn State sanctions, says Big Ten will survive the scandal
Posted on Tue, Jul 24, 2012 : 1:40 p.m.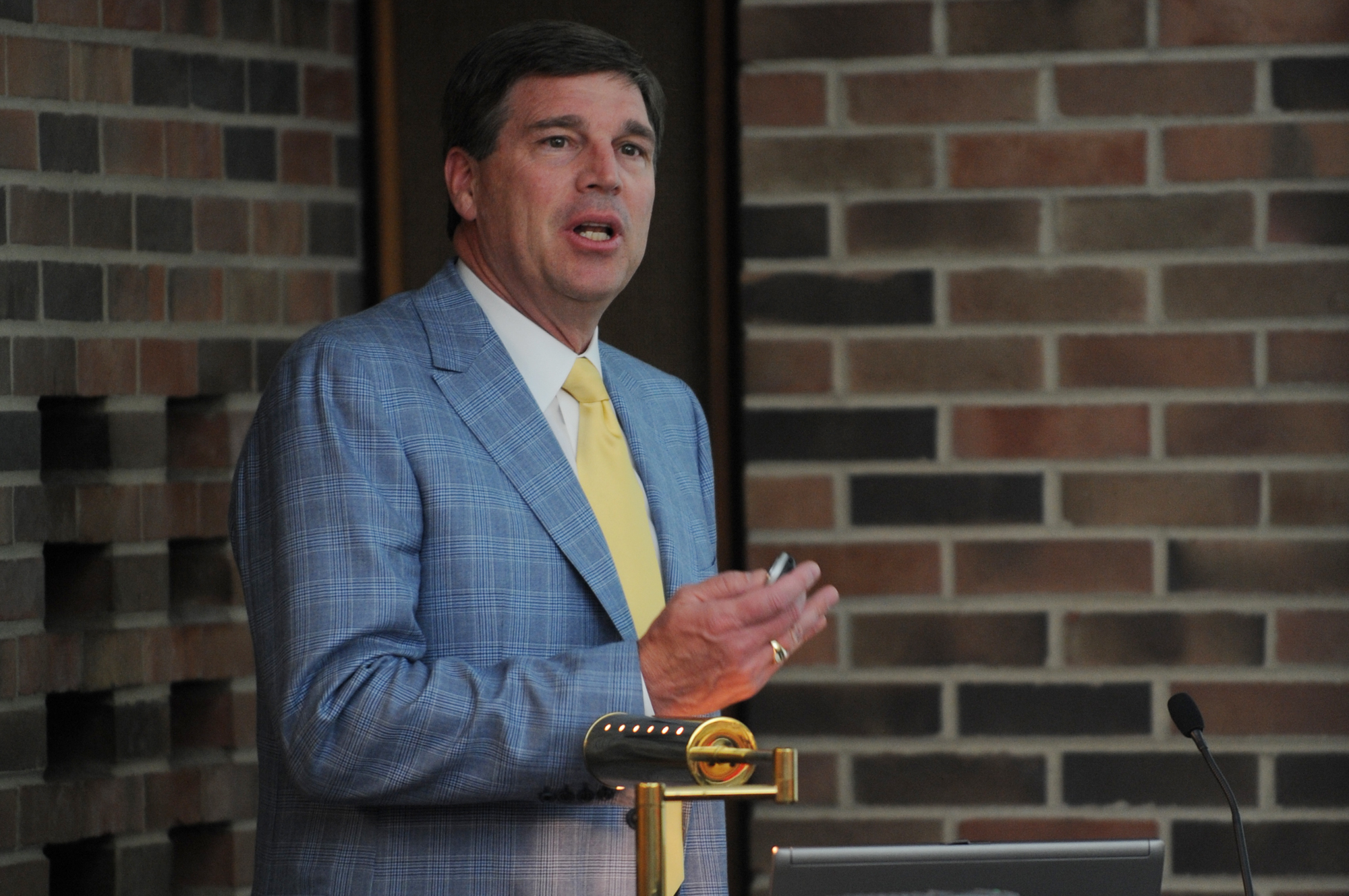 The NCAA dropped the hammer on Penn State's football program Monday in the wake of the Jerry Sandusky scandal, handing the program punishments that could be felt for years down the road.

Debates sprang up about whether or not the NCAA's ruling was too harsh, too lenient or somewhere in between. But, according to Michigan athletic director Dave Brandon, the entire situation was handled just right.

"That was a process that was completely driven by the presidents, as it should be," Brandon said Tuesday. "I thought (NCAA president Mark) Emmert did a terrific job in laying out the case of what they did and why they did it.

"And the fact that Penn State embraced it and recognized and accepted it, it doesn't close the chapter in this, but it's a step in the right direction."

Brandon, who was joined Tuesday in Ann Arbor by Michigan State athletic director Mark Hollis for the annual B1G AD Golf Challenge, not only offered his thoughts on how Emmert and company handled the situation, but also said he believes the Big Ten will survive this.

Penn State's punishments include a four-year postseason ban, a four-year Big Ten Championship Game expulsion and massive scholarship loss.

In 2012, the Big Ten will have two teams -- Penn State and Ohio State -- that won't be eligible to participate in postseason play due to NCAA sanctions. And, in 2010, Michigan was placed on a three-year probation period for practice infractions during the Rich Rodriguez era.

"Let's face it, there have been a couple situations recently that have been a negative, there's no doubt about it," Brandon said. "But the bigger picture, when you look at all the student-atheles, all the sports (in the Big Ten), I think there's a lot to be proud of."

Much of the criticism surrounding the Penn State situation has been focused on the premise that football became "too big" at the university, and in turn, blinded members of the athletic department from coming forward to stop the Sandusky scandal.

At Michigan, football is obviously king as far as athletics goes.

Brandon can't deny that, but he did say that -- at Michigan -- athletics are far from the most important thing on campus.

And under his watch, that'll never change.

"Athletics is really important, but it's not the most important thing that happens on this campus," Brandon said. "We're a little not-for-profit auxiliary unit of this institution. This is a $6 billion institution with tens of 1,000s of faculty members and discoveries are made every day that change the world.

"Yeah, we play football and we play basketball and we have rabid fans who really enjoy that. … And we're pleased that we have people who love and are passionate about what we do, but if we ever get to the point where we think it's more important than the real important things that take place on a college campus, then we've lost our way."