Dave Brandon and Mark Hollis share mutual respect, and insist they're not trying to one-up each other
Posted on Wed, Jul 25, 2012 : 11 a.m.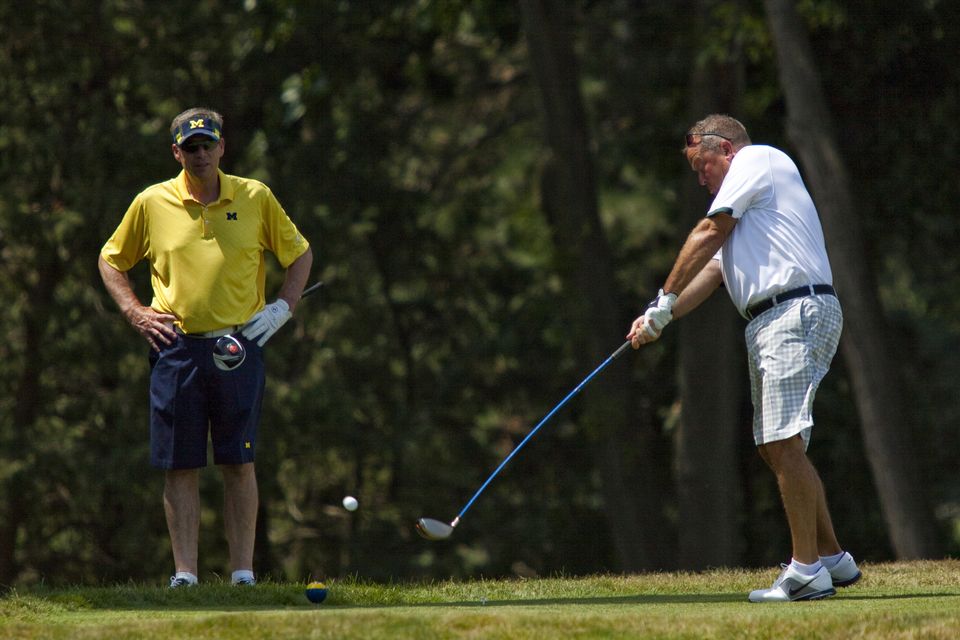 Jeffrey Smith | AnnArbor.com

The current temperature of the rivalry between Michigan and Michigan State on the playing surface is as hot as it's been in years.

The Spartans have scored four straight wins in football, the Wolverines have started to become a player again on the basketball court and both departments seem to be churning out far more good than bad these days -- cranking up the intensity of an already fierce battle.

Some argue that rivalry also floods off the field and into the athletic director offices of both Michigan's Dave Brandon and Michigan State's Mark Hollis, two of the most respected leaders in the industry when it comes to innovation.

But Brandon and Hollis insist that's not the case, saying there is no rivalry between them as individuals.

"The competition is on the playing field, the court and all the things we do -- if we ever get to where the competition is between Mark and me, the world's upside down," Brandon said Tuesday at the B1G AD Golf outing. "Like Mark, I have great respect for Michigan State. They make us better with this great rivalry that's special for our coaches and our kids and it's special for us."

Various off-field projects and instances in East Lansing and Ann Arbor over the past few years may suggest otherwise.

Michigan unveiled brand new, massive high-definition Michigan Stadium scoreboards prior to the 2011 season. Months later, Michigan State announced it, too, had plans for new scoreboards in Spartan Stadium -- and boasted that its $10 million project would feature the biggest scoreboard in the state of Michigan.

When Michigan State unveiled its special "Combat Uniforms" for the 2011 football game against Michigan, the Wolverines countered with a last-second commemorative jersey switch just prior to kickoff.

Michigan State played a basketball game on an aircraft carrier last season, and will take to the court in Germany this year. Michigan, meanwhile, introduced lights to its football stadium for the first time ever, will play at Cowboys Stadium this year and is currently in the process of unveiling perhaps the best, most up-to-date basketball facility in the state.

And then there was the off-court issue this spring, where Hollis offered unsolicited NBA draft advice to Wolverine star Trey Burke through Twitter. It was a move Brandon called inappropriate.

Brandon and Hollis even went head-to-head for an award, as both were listed as finalists for the Sports Business Journal's "Athletic Director of the Year" award in May (Hollis eventually won).

It all sounds like an arms race, but the ADs say that's far from the case.

"I think we're two very different institutions that have very different opportunities and I think we both excel at what we're great at," Hollis said. "I'm not going to say whether he's a big brother or little brother, but Dave's like a brother in a strange sort of way. I think we push each other, complement each other and challenge each other, but it's done with a great deal of respect.

"There are so many people that get into this business that come from, what we call the outside world, and have a very difficult time adapting. … And Dave's done an unbelievable job."

Though it may seem so at times, Brandon and Hollis insist they're not engaged in a high-stakes marketing, promotion and facilities chess match.

There's competition, sure, but not between the two of them.

"We're going to prepare our kids to go out and compete and represent their institutions well and nurture them and support them," Brandon said. "We don't get to the point where we're benchmarking against everything Michigan State does from a marketing and athletic standpoint, that's not what we're about."