Posted on
Tue, Jun 19, 2012 : 11:46 a.m.
Big Ten and Ivy League team up to study head injuries in sports
By Nick Baumgardner
The Big Ten and the Ivy League are combining forces off the field with a common goal in mind: To study the effects of head injuries in sports, and figure out a way to prevent them.
Both leagues announced plans Tuesday for a co-sponsored, cross-institutional research collaboration to better understand everything surrounding sports-related concussions.
"It draws perfectly on the intersection of great medicine, great athletics and great academics that characterizes what is best in our universities," Big Ten Committee on Institutional Cooperation executive director Barbara McFadden Allen said in a statement. "By working together across traditional boundaries, we can build the infrastructure to address the problem, assemble a much larger potential pool of athletes and draw upon the formidable research and medical fields and talents represented across the universities."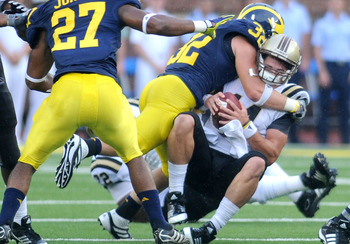 Angela J. Cesere | AnnArbor.com
Head injuries have long been an issue in sports, in particular football, but have been brought further into the limelight recently with more than 2,000 former NFL players filing suits against the league for misinformation with regard to head injuries.
One of the most notable suits came from the family of former NFL star Dave Duerson, who, before committing suicide with a self-inflicted gunshot wound to chest, wished his brain would be donated for head injury research.
At Michigan, concussion prevention and treatment has been cranked up to a new level recently, as the university has hired a full-time football neurologist in Dr. Jeffery Kutcher.
Kutcher has received a $400,000 grant from the NCAA for his own long-term study on the effects of head injuries, and Michigan football players will be included in that project.
"It has been a process of growth, to the point where we really do have a very cutting-edge relationship," Kutcher told AnnArbor.com recently. "It's something other programs have started to do. They've looked at our program as a model, and we're very proud of that fact.
"Being at a place like Michigan, which has one of the best medical schools in the country, a health system that is really vibrant, in combination with the athletic program and having that block M, this was the perfect place to start a new field of medicine, which is essentially what we've done."
Head injuries were also a major topic at the recent Big Ten spring meetings, and the new collaboration is expected to further efforts of figuring out how to prevent and how to treat concussions.
Michigan athletic director Dave Brandon and Ohio State athletic director Gene Smith were notable individuals who expressed concern over the issue, and seemed in favor of new rule changes to help prevent high-impact injuries and promote better overall player safety.
In 2010, the Big Ten became the first college conference to introduce a league-wide concussion management program. The Ivy League responded in 2011 by introducing a series of "concussion-curbing measures in the sport of football."
And now, with the two leagues combining forces in the research field, the hope is to gain more information than ever before on what has become one of sports' true epidemics.
"What's missing, even though there's been some good research, is a longitudinal study governed by common protocol," Big Ten commissioner Jim Delany told ESPN.com. "Measuring before college, in college and post-college."
Nick Baumgardner covers Michigan sports for AnnArbor.com. He can be reached at 734-623-2514, by email at nickbaumgardner@annarbor.com and followed on Twitter @nickbaumgardner.