Athletic director Dave Brandon stiffens Michigan's drug testing policies
Posted on Wed, Apr 18, 2012 : 1:41 p.m.
At a time when studies suggest marijuana use is on the rise among NCAA athletes, the University of Michigan has hardened its stance against drug use since Dave Brandon was hired as its athletic director in 2010.
An ESPN story on marijuana in college athletics published Wednesday says Brandon was "surprised" at how infrequently the Wolverines were tested when he was hired to replace Bill Martin.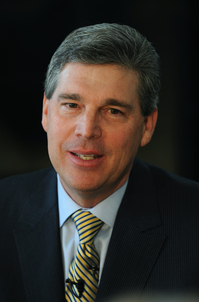 Lon Horwedel | AnnArbor.com
"It became apparent to me that we had a lot of student-athletes who were looking at the testing protocol as a game of Russian roulette," Brandon told ESPN.
"As long as you weren't one of the ones that was chosen for testing in a very infrequent cycle, then you had a high likelihood to use drugs, smoke pot and not get caught because you didn't get tested."
Brandon increased the frequency of his program's testing, and stiffened the penalties for a positive test, according to the report. Michigan athletes now are suspended for 10 percent of their team's competitions for a first positive drug test and 33 percent of competitions after a second.
They receive a one-year suspension from all activities for a third positive result.
"I think it's a competitive disadvantage to have a program where there is drug usage as part of the culture," Brandon said in the report. "I don't look at it as a competitive disadvantage if we have to suspend a student-athlete from time to time to make a point."
The NCAA's most recent drug-use survey, which was conducted in 2009, showed that 22.6 percent of athletes admitted to using marijuana. That's a 1.4 percent increase over a similar study from 2005.