Trey Burke blocking out NCAA dud, says he needs to be a leader for Michigan this season
Posted on Wed, Aug 15, 2012 : 1 p.m.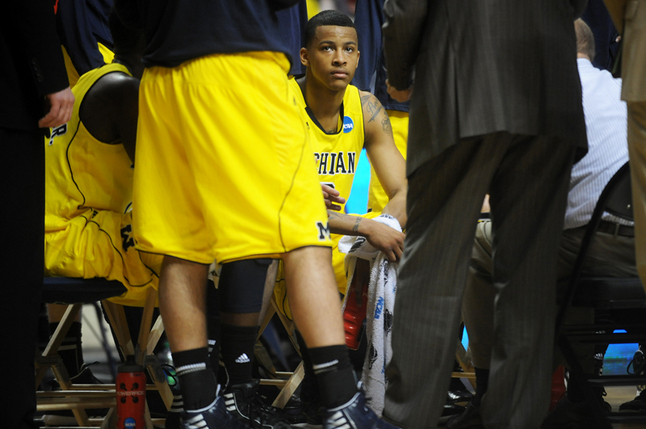 Melanie Maxwell | AnnArbor.com

After limping to an opening-game NCAA Tournament loss to Ohio last March, most Michigan basketball players promised the early exit would serve as motivation moving forward.

And while it's likely still in the back of their minds, sophomore point guard Trey Burke says it's time to get over it and get to work.

"Last year is over with," Burke said in an interview with MGoBlue.com. "It was definitely a disappointing loss that ended our season and that our two seniors, Zack (Novak) and Stu (Douglass) weren't able to go out on the note that they wanted to go out on, but that is why we are in the gym right now.

"We're getting better."

The somewhat surprising loss to Ohio didn't just send Novak and Douglass out on a sour note, it also left the Wolverines with two major captaincy holes.

Novak and Douglass served as co-captains for Michigan from 2010-2012, and for the first time in two years, the Wolverines will have to find new leaders in the locker room.

And though he's only a sophomore, Burke feels that one of those leadership holes needs to be filled by him.

"I definitely have to be a leader, especially with me being a floor general," he said. "I have to get everyone where they need to be, not just on the court but off the court as well, and at practice. I have to have a voice this year and it will go a long way."

"It didn't really come out as much because we had two seniors that I respected very much. I probably showed more leadership on the court than off of it, but this year, I think it will come more natural in terms of showing leadership off the court."

Can he become that leader Michigan craves? Novak believes so.

Toward the end of last season, Novak predicted that Burke would follow in his footsteps and become a sophomore captain in 2012-13, something he still sees as a possibility.

He thinks it'll work, too. Just as long as Burke uses his own voice, and no one else's.

"You've got to have credibility with your guys," Novak told AnnArbor.com last month. "If all of a sudden Trey Burke starts acting exactly like I was, everyone's going to look at him and say, 'dude, you're full of it.'

"They need to find what works for them."