Michigan basketball to host in-state foe Central Michigan on Dec. 29 at Crisler Center
Posted on Mon, Jul 23, 2012 : 10:01 a.m.
The last time Central Michigan visited Ann Arbor, the visiting Chippewas went home with an 11-point victory.
This December, the Michigan basketball team will be looking for a bit of payback.
The Wolverines will host Central Michigan on Dec. 29 at Crisler Center, marking the first meeting between the two since an early winter contest in 2007 -- John Beilein's first season as coach.
CMU confirmed the news in an official release.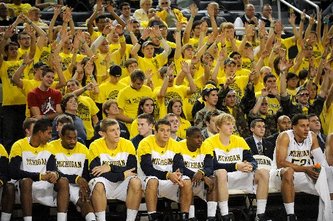 AnnArbor.com file photo
Michigan is 19-3 all-time against Central Michigan, who will be under the supervision of first-year coach Keno Davis.
Davis takes over for the recently fired Ernie Zeigler, and will have to make due without the former coach's son, Trey. Trey Zeigler, a former four-star prospect and Michigan recruit, has transferred to Pittsburgh.
The Wolverines have yet to fully release their 2012-13 schedule, but the CMU game is one of several confirmed dates.
Michigan will take part in the Preseason NIT this season, an event that wraps up at Madison Square Garden in New York City on Thanksgiving weekend.
Michigan will host North Carolina State in the Big Ten/ACC Challenge on Nov. 27. It'll also bring in Arkansas as a return game of a home-and-home series on Dec. 8 before traveling to Brooklyn to take on West Virginia at the newly constructed Barclays Center.
The Wolverines are also slated to visit Bradley as the second part of a home-and-home series.