Michigan basketball puts Zack Novak, Matt Vogrich and Josh Bartelstein on NABC Honors Court
Posted on Tue, Jul 10, 2012 : 3:39 p.m.
The Michigan basketball program received quite a bit of academic praise Tuesday.
The Wolverines placed former player Zack Novak, along with rising seniors Matt Vogrich and Josh Bartelstein, on the 2011-12 National Association of Basketball Coaches' Honors Court.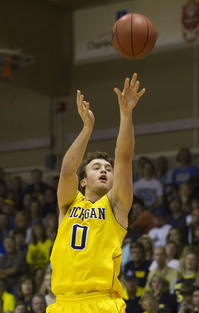 AP Photo
The "Honors Court" recognizes junior or senior student-athletes who achieved high academic success during the season.
To be eligible for the award, a player must be a junior or senior varsity player with at least one year at their current institution who carries a grade-point average of 3.2 or higher at the conclusion of the 2011-12 academic year.
Michigan had more members on the honors court than any other Big Ten school, and accounted for half of the league's six members on the court.
Wisconsin teammates Jared Berggren and Dan Fahey and Purdue's Dru Anthrop were also honored.
The recent awards for Novak, Vogrich and Bartelstein mark the third academic mention for the 2011-12 season. All three players were honored as Academic All-Big Ten performers, and were also named University of Michigan Athletic Academic Achievement honorees.