Nearly a year after commiting to Michigan, Zak Irvin still loving the Wolverines
Posted on Wed, Jun 6, 2012 : 5:59 a.m.
Zak Irvin made his college decision roughly four months before he began his junior season of high school basketball.
So from the time he offered his commitment to Michigan basketball coach John Beilein to the day in November 2012 when he can actually sign his letter of intent, more than a year will have passed.
Sixteen months is certainly more than enough time to change your mind, and it's also a large enough window to draw even more interest, take more phone calls from other programs and reconsider everything within the recruiting world.
But for Irvin, that's just not happening. He's still every bit in love with the school he chose now as he was the day he decided it'd be his new home.
"I'm not (interested in other programs), my mind's still made up, I'm with Michigan," Irvin told AnnArbor.com earlier this week. "I don't take any phone calls, it's Michigan for me."
A 6-foot-6 wing from Hamilton Southeastern High School in Fishers, Ind., Irvin -- a four-star Rivals.com prospect -- committed to Michigan as a member of its 2013 class in July 2011.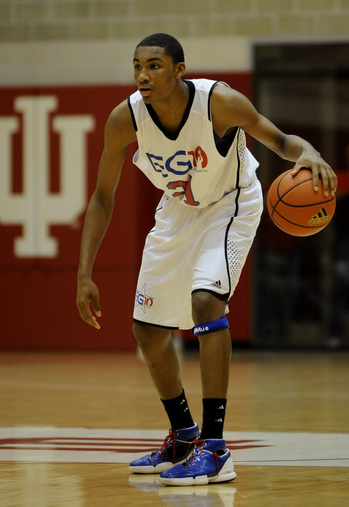 As his junior year progressed, Irvin's game went right along with it. He continued to draw praise from various scouting services after an extremely productive summer.
Irvin averaged 18.8 points and 6.2 rebounds per game a year ago, helping Hamilton Southeastern to a 22-3 record and a No. 1 overall state ranking.
And, as is often the case with rising recruits who offer early commitments, a few internet message board speculators began to wonder if Irvin -- one of the hottest prospects in the state of Indiana -- might reconsider his options.
That hasn't happened, and Irvin says it won't, either. He's focused on Michigan, and continually developing himself into a multi-faceted player.
"Right now I'm working a lot on my ball-handling, just in case I have to step in and play (some point guard) once I get there," said Irvin, who is rated as the third-best rising senior in Indiana by Rivals.com. "Because you never know."
As it stands now, Irvin most likely translates to either the small forward or shooting guard position in college. Michigan already has a high-level point guard pledge in Harper Woods Chandler Park Academy floor leader Derrick Walton, the 39th-best player in the 2013 class on ESPN.com's Top 100 list.
Walton is expected to either serve as a solid backup to current Michigan point guard Trey Burke, or possibly replace him, if Burke opts for the NBA after his sophomore season.
Either way, Irvin says he's staying prepared and has gotten encouragement from the Michigan coaching staff to expand his game as much as possible so that he can help the team in as many ways as he can once he arrives.
And that's exactly what he and the coaching staff at Hamilton Southeastern are working toward. Southeastern coach Brian Satterfield says that Irvin fits the Beilein mold of a versatile wing who has the ability to play up to three spots on the floor.
Irvin, who Satterfield said is now closer to 6-foot-7, has experience playing point guard, can work the mid-range game with pull-up jumpers and is also honing his skills inside, to better take advantage of size mismatches.
"As a freshman he played point guard on our JV team, and he was probably good enough to play varsity, but we wanted him to work on handling the ball," Satterfield said. "We also wanted him to improve on the defensive end, and I'll tell you what, that's one area where he's really starting to shine now."
Next season, Irvin will likely move into more of a starring role at Hamilton Southeastern, as former prep teammate -- five-star shooting guard and 2012 Indiana Mr. Basketball -- Gary Harris will be at Michigan State.
Irvin will be asked to be the top dog on a team that was one of Indiana's best a year ago, but it won't be something he can't handle, according to Satterfield.
Harris won Mr. Basketball last season, but he did so with a major assist from Irvin -- who should firmly be in the running for the award in 2012-13.
"He's ready for it," Satterfield said. "Gary ended up getting Mr. Basketball, but Zak was a big reason why we were able to (have success). He took pressure off Gary being able to do what he could do.
"When teams tried to take away Gary, we went to Zak. And he was ready."
Off the court, Irvin says he's developed strong bonds with all the fellow members of his 2013 class, including Walton, power forward Mark Donnal and shooting guard Austin Hatch.
He's also developed a friendship with 2012 Michigan signee Glenn Robinson III, who played against Irvin last season with his Lake Central High School squad.
Additionally, he says the Michigan coaching staff was the ultimate reason why he opted to offer the Wolverines a verbal in the first place, and it's still the main reason why he's as excited as ever to get to Ann Arbor.
He appears poised for big things on the floor next season.
But first thing's first: On Nov. 14, 2012 he'll have a chance to put pen to paper and officially become a Michigan Wolverine.
Sixteen months well spent.
"Michigan's coaching staff is great and they're a huge reason why I chose Michigan," Irvin says. "I just can't wait to get up there and be around those guys."
Want to stay connected to Wolverine basketball in your Facebook newsfeed? "Like" AnnArbor.com's Michigan Basketball News & Views.