Michigan basketball coach John Beilein's faith in his team and the process paying dividends ... again
Posted on Tue, Mar 8, 2011 : 8:06 p.m.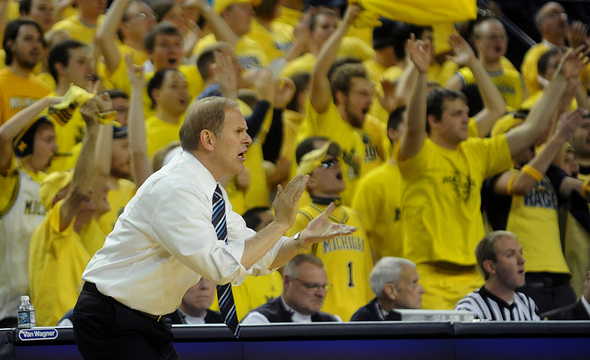 AnnArbor.com file photo
Like a political candidate seeking swing-state support, John Beilein understands the value of delivering the right message.
Three years ago, when he felt two Indiana sharp-shooters could factor into the Michigan basketball team's long-range success, Beilein made a bold prediction to Zack Novak and Stu Douglass.
He would make the Wolverines right again.
"Coming in, that was one of our goals for our class," Novak said Tuesday. "That was one of the things coach Beilein really sold us on was that, 'We're going to get Michigan basketball back in the right direction.'
"It wasn't a matter really of 'we might.' Coach was very confident. We're going to get this right."
Two years ago, with Novak and Douglass both playing significant minutes as freshmen, the Wolverines did. Armed with wins over Top 5 opponents in Duke and UCLA, the Wolverines finished 9-9 in Big Ten play and 20-12 overall.
Michigan won a game in the Big Ten tournament and then sweated through Selection Sunday, grabbing one of the final spots in the NCAA tournament field.
Two years later, Michigan is back in a similar spot. Without a marquee win, the Wolverines are again 9-9 in league play heading into Friday's Big Ten tournament match-up with Illinois (approximately 2:30 p.m., ESPN) in Indianapolis.
After completing their first sweep of rival Michigan State since 1997 last weekend, Michigan appears to be poised to make its second NCAA appearance in three years. Although the Wolverines have needed every one of the eight victories that have come in their last 11 games to solidify their chances, Novak can't help but think back to Beilein's promise.
For Beilein, the premise he could make Michigan a tournament staple wasn't as much salesmanship as it was a belief in a process he had used many times before. The blueprint had worked at each of his previous coaching stops and, given the resources he had to work with at Michigan, believed it would work again in time.
"If you don't believe you're going to do the job, you shouldn't be coaching here," Beilein said. "I knew there were some obstacles we were going to have to go through. There are things you have to overcome and it's just going to be a matter of time.
"But you have to have that confidence in your ability, in your staff and in your players that you're going to do this."
On a smaller scale, this season has required his players to again take him at his word.
After Michigan started 1-6 in Big Ten play, few gave the Wolverines much hope for playing their way into postseason contention. But after a win at Michigan State in late January, the Wolverines slowly started to turn things around.
After his team's 74-60 loss at Northwestern, Beilein told his players that he sensed they had the makings of a tournament team. He couldn't predict a timetable, but he felt over time, their efforts would pay off.
"The ball had to bounce our way," Beilein said. "Sometimes, it did, sometimes, it didn't. But we still hung in there."
An 8-3 finishing stretch to the regular season has lent credence to Beilein's confidence. Although there is still much to be determined before Selection Sunday, the Wolverines again find themselves putting stock in Beilein's message.
For Novak, it's a bit of a history lesson.
"We weren't experiencing too much success (early on), but we felt like we had the guys in place to do it if we were playing the right way," he said. "So once we fixed the things we needed to fix and once we started winning, no one was really shocked.
"We figured we could have done it the whole time, but with a young team, I think we had to go through that and we had to learn the things that we learned. Now, we just have to keep getting better. We just can't stop because there's a lot of basketball left."
For Michigan's freshmen, who are in a spot similar to the one Novak and Douglass were two years ago, the focus turns to helping the Wolverines' most experienced players accomplish their goal of being post-season regulars.
"Just looking at Zack and Stu, they're just out there playing their hardest -- they only have one more year after this," said Tim Hardaway Jr. "This is their last run after this year, basically, and we just want to make it the most we can for them."
.