Michigan coach John Beilein has no preference on protected B1G basketball rivalries, Michigan State included
Posted on Thu, May 17, 2012 : 2:46 p.m.
Would a season featuring just one Michigan vs. Michigan State basketball game be a bad thing?
If the Big Ten makes it so, then Michigan coach John Beilein says he'll be fine with it.
"Either way, there's so many different elements in that scheduling," Beilein told reporters Thursday at the William Davidson Player Development Center. "I think the Big Ten knows best, and I'll do whatever they say.
"I don't have a preference -- what's good for the league is good for Michigan."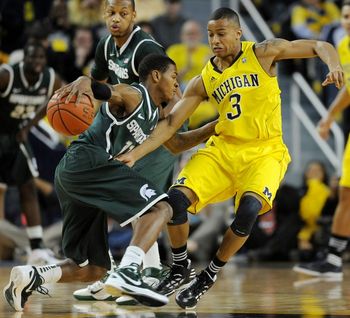 Melanie Maxwell | AnnArbor.com
One topic of discussion earlier this week at the Big Ten's spring meetings in Chicago was the idea of protected rivalries in college basketball, which would assure certain teams play each other twice each season.
Beilein didn't have much a preference, but Michigan athletic director Dave Brandon did.
"I think it would be healthy for the conference," he said earlier this week in Chicago. "I know with our Michigan State rivalry, doing the home-and-home during the season is terrific.
"And when we only play them once I think people are disappointed, particularly the (road) team."
With a 12-team league, the Big Ten's basketball schedule cycle currently mandates four single-play games for each program during a season -- meaning, at some point, the Wolverines and Spartans will play just one scheduled league game against one another.
Michigan and Michigan State played just once in 2002, 2003, 2008 and 2009 -- when the league had 11 members.
Beilein says he expects the cycle to continue to rotate as is and isn't worried about facing the Spartans just once for quite some time, since it just finished its last single-play cycle in 2009.
But when the cycle rotates back through, he says it's not something he'll be too concerned with.
"I think that will continue to rotate the way it has been," Beilein said. "I don't think we'll be in a situation with Michigan State where we'll (play them once) for a long time. We'll play them twice for a long time because we've already rotated through that."
As far as current scheduling is concerned, Beilein said there's still a chance Michigan could add a non-guaranteed, major-conference opponent for the 2012-13 schedule, though he's not 100 percent certain it will happen.
Additionally, he said he was pleased with drawing North Carolina State for the 2012 ACC/Big Ten Challenge.
"North Carolina State is a former national champion that had a tremendous year, they went further than us (in the NCAA Tournament last season) and had a great recruiting class as well," Beilein said. "I think it'll be a packed house (in the Crisler Center)."
Beilein also said it's his plan to continue to schedule exempt holiday tournaments during the Thanksgiving break.
Michigan is expected to participate in the Preseason NIT in 2012, and played in the Maui Invitational last season. Beilein said he's in the process of locking up more "high-level" tournament appearances moving forward.
"We're trying to stack them up over a three or four-year period, kind of the same thing we've been doing," he said. "Tournaments that could be in New York, they could be in (the Caribbean) or Maui. We're still looking through a lot of those.
"We'd like to, but I don't think (the tournaments) want us to talk about where we are (for future tournaments) yet."
AnnArbor.com's Kyle Meinke contributed to this report.
Want to stay connected to Wolverine basketball in your Facebook newsfeed? "Like" AnnArbor.com's Michigan Basketball News & Views.