ESPN blogger says Michigan basketball can contend for a national title this season
Posted on Fri, Aug 10, 2012 : 10:30 a.m.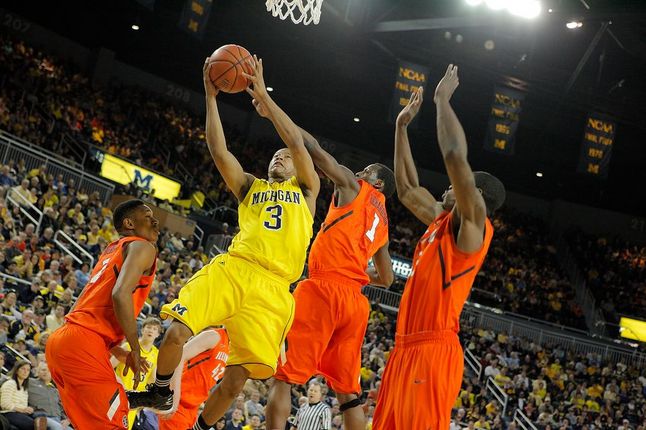 Chris Asadian | AnnArbor.com

Since returning in April, Trey Burke has kept his expectations for the Michigan basketball team consistent.

He believes they're national title contenders.

And, apparently, he isn't the only one.

ESPN.com recently blogged its top summer story lines and updated expectations for Big Ten teams in 2012-13, and in accordance with Burke, writer Eamonn Brennan says the Wolverines have what it takes to contend for the big one.

"Trey Burke told the media he saw his team as a national title contender," Brennan wrote. "That's a very optimistic best-case scenario, sure, but in such a wide-open hoops landscape, I'm inclined to agree.

"This is unquestionably the most talented Michigan team in a decade, and if the freshmen excel early Burke's opinion won't seem farfetched."

So far, Burke's easily been the boldest Wolverine prognosticator this summer, saying at virtually every media session he's been involved in that he sees Michigan as a national contender this season.

John Beilein hasn't touched on the subject, which is no surprise, and most players have been somewhat tempered when asked what exactly this team can do.

Tim Hardaway Jr., however, wasn't too far from Burke with an assessment earlier this spring.

"The sky's the limit," he said.

As far as Brennan's worst-case scenario for Michigan? He says the team could slump due to the lost leadership of Zack Novak and Stu Douglass, and the overall lack of 3-point shooting depth.

But he doesn't see that happening. At worst, he says the Wolverines are just Big Ten title contenders.

"I think Beilein will make it work, and I think Michigan will be very tough to beat," he wrote. "But increased success is far from guaranteed."