Carlton Brundidge tells Detroit Free Press he wasn't happy at Michigan, now all smiles at Detroit
Posted on Wed, Aug 1, 2012 : noon
Carlton Brundidge's career as a Michigan basketball player seemed to end before it ever really began.
After sparsely playing as a freshman in 2011-12, Brundidge left John Beilein's program in March and eventually ended up with coach Ray McCallum at the University of Detroit.
The reason for the move? According to Brundidge, it was a matter of happiness.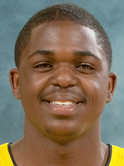 "At the end of the year, I asked myself was I really happy at Michigan and was I becoming the player I dreamed about?" Brundidge said in an interview with the Detroit Free Press. "Something inside told me this isn't where I was supposed to be."
Brundidge, a Southfield High School product, entered the program as a four-star guard alongside fellow freshman Trey Burke.
The 6-foot-1 Brundidge was actually a higher-rated prospect than Burke, according to Rivals.com, but it never translated to the court.
Burke was undoubtedly the Wolverines' best player in 2011-12, as he set the freshmen assist record, led the team in scoring, flirted with the NBA and eventually earned co-Big Ten Freshman in the Year in the process.
Brundidge, meanwhile, appeared in 15 games, logged just 44 minutes and scored just six points.
He'll sit out the 2012-13 season due to NCAA transfer rules, and is expected to have three years of eligibility remaining at the start of the 2013-14 campaign.
"I don't think I've smiled this much since I left for Ann Arbor," Brundidge told the Free Press.