Big Ten leads country in men's basketball attendance, Michigan ranks No. 34
Posted on Fri, May 11, 2012 : 2 p.m.
For the 36th consecutive year, the Big Ten Conference ranked No. 1 nationally in total attendance.
In 2011-12, the Big Ten welcomed 2,856,785 fans in more than 222 games, per a league release.
Per an NCAA release, the Michigan basketball program ranked No. 34 in the country in total attendance last season with 182,974 fans -- an average of 11,436 per game.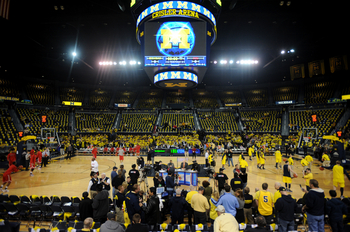 Melanie Maxwell | AnnArbor.com
Michigan was ninth among league schools in average attendance last season, with Wisconsin leading all league members at 17,181 fans per game.
Other Big Ten teams were as follows: Ohio State (No. 8) averaged 16,511, Indiana (No. 9) averaged 16,462, Illinois (No. 14) averaged 14,986, Michigan State (No. 15) averaged 14,797, Purdue (No. 21) averaged 13,324, Iowa (No. 31) averaged 11,869 and Minnesota (No. 33) averaged 11,794.
The Wolverines, who went 15-1 in 16 home games last season, finished with eight sellouts.
The last time Michigan had more than eight sellouts was 1994-95, when the Wolverines finished the season with 12 sellouts.
Want to stay connected to Wolverine basketball in your Facebook newsfeed? "Like" AnnArbor.com's Michigan Basketball News & Views.