Tyrone Wheatley, Ron Oestrike, Barry Larkin and Jim Brandstatter among Michigan Sports Hall of Fame nominees
Posted on Thu, Sep 27, 2012 : 2:16 p.m.
The Michigan Sports Hall of Fame recently announced the nominees for its 2013 induction class and several of whom have University of Michigan, Eastern Michigan and Ann Arbor ties.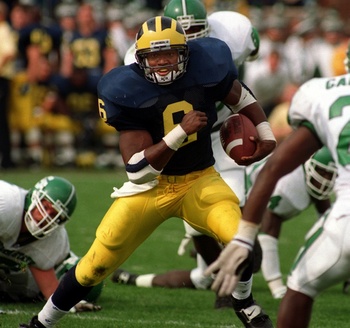 Ann Arbor News file photo
Among the nominees to the 57th class are former Michigan baseball great Barry Larkin, former Michigan football running back Tyrone Wheatley, former Eastern Michigan baseball player Bob Welch and longtime EMU baseball coach Ron Oestrike for whom Eastern's baseball stadium is named after.
For the first time in the 57 years of the hall of fame, fans can vote for which professional and amateur/college nominees should be inducted at the Michigan Sports Hall of Fame website.
Wheatley earned portions of seven football and track Big Ten Championships while a dual-sport athlete at Michigan from 1991-94. He was Rose Bowl MVP in 1993 and Big Ten Offensive Player of the Year in 1992.
Larkin played baseball at Michigan from 1983-85 and had a career batting average of .361 for the Wolverines. He was inducted into the College Baseball Hall of Fame in 2009 and the Major League Baseball Hall of Fame this summer for his accomplishments during his 19-year career with the Cincinnati Reds.
Welch led the EMU baseball team to the College World Series in 1975 and 1976 and would go on to a 17-year Major League career, winning two World Series and a Cy Young Award in 1990. Welch's coach while at Eastern, Oestrike, is on the nominees list as well. Oestrike coached baseball at Eastern from 1965-87, winning an NAIA national championship in 1970 and finishing runner-up in the 1976 College World Series.
Also on the nomination list are former Michigan athletes Brian Diemer (track and field) and Jim Brandstatter (football), who is nominated for accomplishments as an announcer. Ann Arbor native Aaron Krickstein (tennis) is also on the list.
Public voting will conclude at 11:59 p.m. on Friday, Oct. 5.