Facing No. 21 Michigan State will test already struggling Eastern Michigan football team
Posted on Thu, Sep 20, 2012 : 5:45 a.m.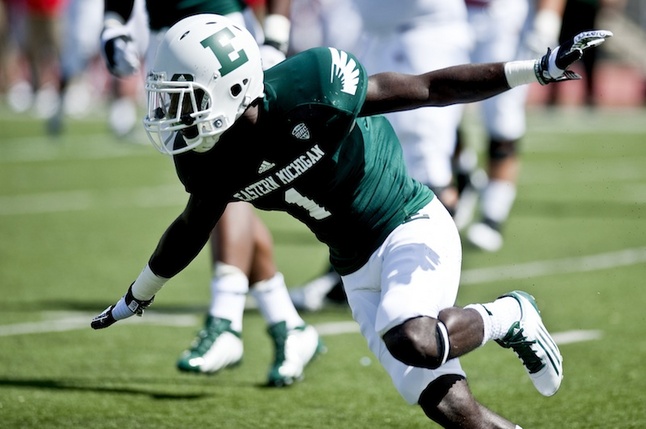 Joseph Tobianski | AnnArbor.com

A quick look at the scoreboard from the Eastern Michigan football team's last 54-16 loss to Purdue Saturday's and it would be easy to assume Eastern head coach Ron English would be disappointed with his team's defensive effort.

But English said he saw some of the improvement he has been looking for since the start of the season in the lopsided loss.

"We played 67 really good snaps on defense and eight bad snaps. We're just not experienced enough in the back end to overcome that," English said. "On one hand you feel better about that, but on the other hand it's frustrating to know that you're close to playing good on defense."

The Eagles need that improvement to continue as they travel to East Lansing on Saturday to face the No. 21 Michigan State Spartans at Spartan Stadium (3:30 p.m., Big Ten Network).

After falling to Notre Dame 20-3 last week, MSU head coach Mark Dantonio said his team is looking forward to getting back on the field.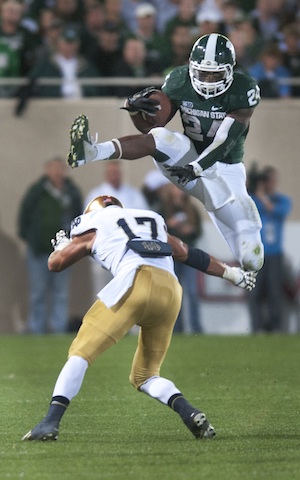 J. Scott Park | MLive.com
"We want to play Eastern Michigan very tough and we want to make a statement. And that's what our players will do," Dantonio said at his weekly press conference. "This will be about us and about who we are as a football team."
EMU enters the game with the worst run defense in the FBS, having given up 937 yards on the ground in just three games. The Spartans come in averaging 145.3 yards a game on the ground.
English said his team must contain MSU running back Le'Veon Bell if they want to compete on Saturday.
"He's just a big athlete that can run and can be physical," English said about Bell. "I just think you got to stop him with numbers and you got to really grab when you tackle because he's proven early this year and last year as well that he can break tackles."
As important as stopping the run game is to English, he expects to get a heavy dose of quarterback Andrew Maxwell as well. Maxwell has been inconsistent this far this season and English believes the Spartans will look to correct that against the Eagles.
"I would expect that they would get Maxwell a lot of work and I would expect that they would definitely game plan in such a way that not only are they game-planning for us, but for the future a little bit," English said at his weekly teleconference.
Getting players going is a theme both coaches spoke about this week as both teams have questions about their starting lineups. English says that finding the right mix is essential before MAC play begins in two weeks.
"We have several guys playing at different spots. As we go through each week here, we have to constantly evaluate which guys are playing and we have to make sure the guys playing give us the bets chance of winning," English said.
One of those players getting some more playing time could be backup quarterback Tyler Benz who saw action in the second half against Purdue after starting quarterback Alex Gillett was benched. Gillett eads the team in rushing so far, but has thrown six interceptions on the year, including three against the Boilermakers.
English wouldn't say if he's looking to make it a permanent switch.
"We want to develop Tyler and we want to get him going. It'll be something that we constantly look at and constantly evaluate," English said. "Just like every position, it's about what he can do to help our football team win games."
Like English, Dantonio wouldn't say which positions would see changes to the lineup, but admitted that his staff was looking at areas to improve in.
"We have to make some decisions on who is going to get the reps and who is going to get the opportunities to play," Dantonio said. "You've to make some tough decisions, so those decisions have to be laid out in practice this week."
On offense, English wants to see his team continue to improve running the football after a sluggish start to the season. The Eagles ran the ball well against Purdue, considered one the better front sevens in the Big Ten, racking up 169 yards on the ground.
"I thought we did a good job running the ball throughout the game. I would hope it would give our guys confidence, I know we'll see that as we go forward," English said. "To see if they really have gained some confidence. I thought we ran the ball much much better and we executed technique much better."
Still, English is concerned about the MSU defense.
"I've been watching Michigan State for the past several years. They've got big, physical guys on both sides of the ball," English said. "They do multiple things on defense, they'll bring a lot of pressure at times, but then they'll four-man rush you and they have the guys that can do that. They're just an excellent football team."
Despite being a 33-point underdog, English said his team can still gain some confidence from this weekend.
"I hope to see this weekend is that we continue to get better, we want to win the game, we're not saying that we don't want to win the game, but we want to get better."