Super sweep: Alabama softball is World Series-bound after 4-3 win over Michigan
Posted on Fri, May 25, 2012 : 6:58 p.m.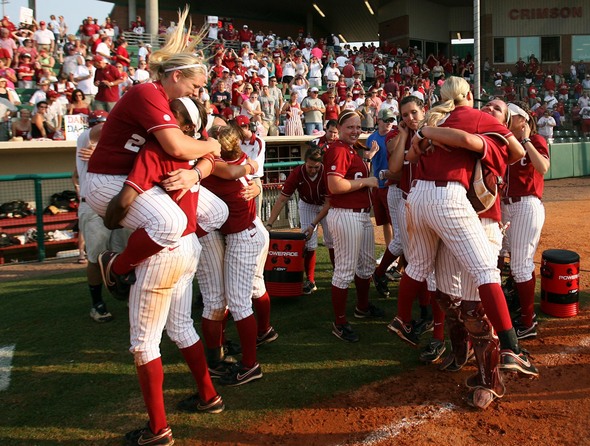 Associated Press
This story was updated with post-game reaction from players and coaches.
It took the Michigan softball team six innings to begin to figure out Alabama pitcher Jackie Traina in their Super Regional opener.
The Wolverines hopped on the Southeastern Conference Pitcher of the Year early on Friday, but the No. 3-ranked Crimson Tide rallied for a 4-3 win to sweep the best-of-three series and advance to the Women's College World Series.
"It's such a great feeling. You never want to waste a great crowd as a coach," Alabama coach Patrick Murphy said of the 2,557 fans at Rhoads Stadium. "I've seen it so many times when you have everything going for you and stuff happens. I am so proud of my team.
"The six seniors have been incredible for their four years. I couldn't ask for anybody better on my team and to represent the University of Alabama. I'm so proud of everybody on this team, one through 20."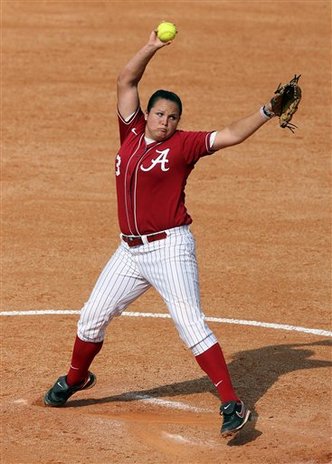 Associated Press
A two-run home run to left field by Alabama's Kaila Hunt tied the game at 3-3 in the fifth inning and Kayla Braud had the game-winner in the sixth, a stand-up triple to right that scored pinch runner Danielle Richard.
Michigan put the tying run in scoring position with one out in the bottom of the seventh. Traina got the Wolverines' Bree Evans to ground out and -- with Stephanie Kirpatrick still on second base -- ended the game by striking out Nicole Sappingfield.
The Crimson Tide (55-7) advance to the eight-team Women's College World Series for the fourth time in five years. Michigan (42-17) has played in Oklahoma City once (in 2009) since winning a national championship in 2005.
Michigan senior first baseman Amanda Chidester gave the Wolverines an early lead with a solo home run to left in bottom of first inning.
After Alabama tied the score in the top of the second, Michigan took a 3-1 lead in the bottom of the inning thanks to two Crimson Tide errors and three straight singles by Kirkpatrick, Lyndsay Doyle and Evans.
Traina, who allowed just three hits in the Crimson Tide's 4-1 win on Thursday, settled down from there. She allowed one hit and three base runners over the final five innings, allowing Alabama to stage its comeback.
"Hat's off to Alabama," Michigan coach Carol Hutchins said. "Traina notched it up there late in the game. She wasn't on her A-game, but boy she got on it."
Michigan's senior class of Evans, Chidester, Kirkpatrick and Hilary Payne ended their career with a 191-43 record.
"Our freshman year, we made it to the Women's College World Series, and Hutch told us that we might not ever make it back there," Chidester told reporters after the game.
"I didn't believe her when she said it to me because I came out of high school successful. I came in and we went in our first go-around here, and we didn't make it back. It's tough; it's very tough."
Michigan freshman pitcher Haylie Wagner allowed seven hits and three earned runs in a complete-game performance. She also walked five Alabama batters.
"I'm so proud because we came to play," Hutchins said. "We came to win and we didn't get it done, but that's all that you can ask of your kids is to play to win. It's not as easy as it looks."