Saturday's Olympic preview: Peter Vanderkaay, Sam Mikulak in action
Posted on Sat, Jul 28, 2012 : 2:46 a.m.
Welcome to our daily preview of the 2012 Olympic Games in London:

Local athletes
Former University of Michigan swimmer Peter Vanderkaay is part of a strong start to eight days of swimming at the Olympic pool.
Vanderkaay is in the fourth heat of the early-morning preliminary round of the 400 freestyle, lining up next to medal favorite Sun Yang of China. The three-time Olympic medalist will be vying for a spot in the 2:49 p.m. final.
Former Michigan volunteer assistant coach Club Wolverine member Michael Phelps also kicks off his quest to add to his record total of 14 gold medals. He'll go head-to-head with rival Ryan Lochte, a fellow American, in the 400 individual medley.
For Phelps, it's a chance to become the first male swimmer to win the same event at three straight Olympics. But Lochte is the defending world champion and defeated Phelps rather easily at the U.S. trials last month.
In gymnastics, Michigan junior Sam Mikulak will compete in five of six events for the United States when team qualification begins on Saturday. The Associated Press reported Friday that the 19-year-old has looked strong during training barely four weeks after aggravating an ankle injury during the first night of the Olympic trials.
Related: List of Olympic athletes and coaches with Ann Arbor-area ties.

Television coverage
Along with all events being streamed live at nbcolympics.com, the following events are scheduled to be highlighted on Saturday:
LOCAL OLYMPIANS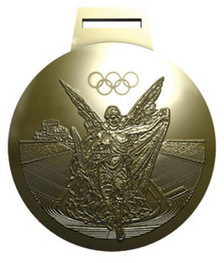 Visit the AnnArbor.com
Olympics page
for stories on Olympians with Ann Arbor-area ties. Follow along with Michigan athletes at
MLive.com/Olympics
.
NBC
(5 a.m. to 6 p.m.): Cycling, swimming, women's basketball, rowing, women's volleyball, men's beach volleyball.
NBC (8 p.m. to midnight): Swimming, men's gymnastics, women's beach volleyball.
NBC Sports (4 a.m. to 8 p.m.): Women's beach volleyball, badminton, shooting, women's volleyball, fencing, women's handball, women's soccer, table tennis, equestrian, archery.
MSNBC (7 a.m. to 5 p.m.): Women's soccer, table tennis, fencing, women's soccer, beach volleyball, badminton.
CNBC (8:30 to 11:30 a.m.): Boxing.
CNBC (3:30 to 6:30 p.m.): Boxing.
BRAVO (7 a.m. to 3 p.m.): Tennis.
TELEMUNDO (8 a.m. to 5 p.m.): Swimming, volleyball, beach volleyball, boxing.

Eyes on London
Around the 2012 Olympics and its host city with journalists from The Associated Press bringing the flavor and details of the games to you:
Hitting the beach
Beach volleyball in the heart of central London will highlight Olympic competition Saturday, along with the first swimming medals.
Two-time U.S. defending gold medalist pair Kerri Walsh Jennings and Misty May-Treanor will be the feature match in the beach volleyball grandstand.
"It's amazing. Just this area in itself is so special," Walsh Jennings said. "You have the Horse Guards right there and the changing of the guard and you get to see this and all the historic culture. Really, really cool. I've been picturing this for so long, and to see it in person and have it come alive is awesome."