Pioneer grad Haley Jones settling into role as leader of young Michigan field hockey team
Posted on Fri, Oct 5, 2012 : 1 p.m.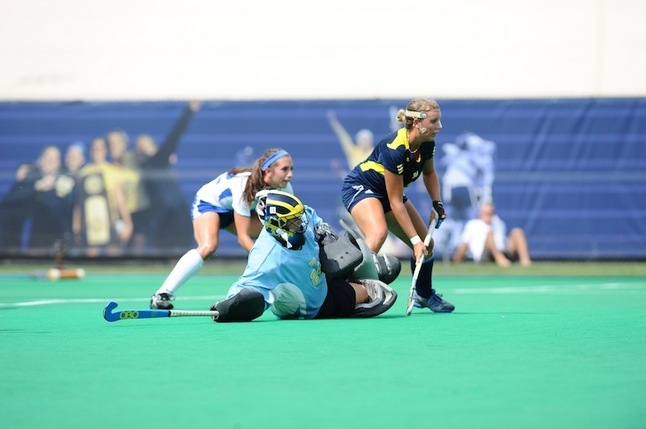 Photo courtesy of University of Michigan Athletics

Haley Jones remembers what it was like to have ups and downs as a freshman on the University of Michigan field hockey team. Three years later, Jones is using her experiences to help to the newest freshmen adjust and become key contributors to the Wolverines this season.

"With the freshmen, this is kinda our chance to teach them, not just with the coaches but we kind of have to be coaches as well and work with them because we're super dependent on them," Jones said.

When she was a freshman in 2009, Jones was redshirted and didn't see any action on the field. While she didn't enjoy not playing, Jones said the experience helped her learn how she could improve both on and off the field. Those lessons, helped shape Jones as a leader.

"Off the field I've seen a lot being a part of a different teams every year, the dynamic has changed every year," Jones said. "Going through the all the experiences here have built me up and made playing more fun than stressful."
As the team's starting goaltender and a captain, Jones, a
Pioneer High School
graduate, has plenty of pressure on her to keep the Wolverines at the top of the Big Ten.
According to head coach Marcia Pankratz, Jones has been up to the task thus far.
"Haley's done a great job being a captain. She's mature and experienced and she's got a wonderful personality that creates good team dynamics and she leads by example," Pankratz said.
Although the role as leader is a new one, Jones is enjoying her newfound position in the locker room.
"With the freshmen, this is kinda our chance to teach them, not just with the coaches but we kind of have to be coaches as well and work with them because we're super dependent on them.
"It's fun for me, we have a tight bond as a team. There are 25 girls on the team, but you can't even tell that there are so many people," Jones said. "Everybody gets along well and I think as leaders, the upperclassmen all work well together. What really helps is that they've (the freshmen) stepped into their role well too."
That dependence on the freshman has come as somewhat of a surprise for Pankratz and her team. Injuries to key midfielders Ainsley McCallister (a Huron graduate) and Axelle Wouters have forced some of the younger players to jump into the lineup before they were ready according to Pankratz.
Still, she thinks her team has responded well.
"In the short term it was hard on the kids, but in the long term it's going to be great," Pankratz said. "They got some tremendous experience and they've grown leaps and bounds every single game. We're a much better team than we were at the beginning of the season."
With the No. 9 Northwestern Wildcats visiting Ann Arbor Friday, the Wolverines hope to fight back some of the problems that have sprung up earlier this season.
"It would be huge for us to pull out a win. With a young team its always about getting over that hump and making that last play to win it and putting together an entire 70 minutes," Pankratz said. "They're excited for the game, this team loves the challenge. I think we probably consider ourselves the underdogs, which is certainly not a usual circumstances for our program."
Michigan is 7-4 on the season with all four losses have come against nationally ranked opponents. Despite the unsatisfactory results so far, Jones says the team is in the right frame of mind entering the game.
"For us it's important because it's a Big Ten game and it shows a lot for the overall season record," Jones said. "Earlier in the year the results weren't what we wanted, but as a whole we're looking at the growing experience of where we started in the preseason to where we've come to.
"With this weekend, it's a big game for us, but we're not seeing it as we have to win because at that mindset you get in the wrong place."
For Pankratz having someone like Jones as a final line-of-defense is a tremendous asset to a young team looking to make its mark.
"It helps bring confidence to the defense. I think every player in our defensive backfield is really new this year," Pankratz said. "She communicates well, she makes good decision. It's been critical and very successful."
As Jones and her team prepares for the heart of Big Ten Conference play, she says that looking back on her past will help keep things in perspective.
"I think the past few years of getting in and out of games have really helped me out," Jones said. "This year playing a lot, especially against the good teams that we play early in the year, you don't really have a choice but to get your footing and be ready."
The No. 15 Wolverines host No. 9 Northwestern Friday at Ocker Field at 4 p.m.