Michigan senior goalie Bryan Hogan finishes career in spectator role, pulling for championship run
Posted on Thu, Mar 3, 2011 : 6:02 a.m.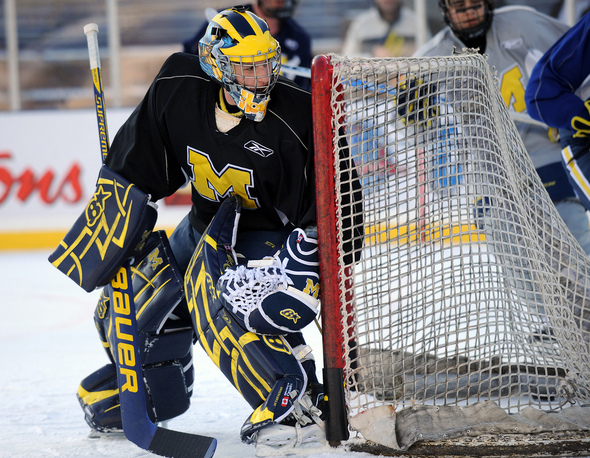 Lon Horwedel | AnnArbor.com
As the final seconds ticked off the Berry Events Center scoreboard clock last Saturday night, Bryan Hogan paused, taking a moment to just look around.
He had entered the game six minutes earlier, the first time in almost three months he had logged any meaningful ice time. As much as he wanted to join his Michigan hockey teammates in celebrating the Wolverines' first regular-season CCHA title in three years after that win at Northern Michigan, Hogan just needed a second to savor the environment.
As good as it felt for the senior goalie to be back in a position he had spent more than 4,700 minutes playing over the past four years, reality was starting to sink in.
"That very well could be the last game I play as a college athlete, so that last six minutes was something I really wanted to take in," Hogan said this week. "I really wanted to really enjoy it and remember everything about it. I really had to cherish the moment."
This isn't the way Hogan anticipated finishing his collegiate career. The statistics he accumulated make it seem the past four years have been kind to a goalie who ranks first in school history in career goals-against average (2.19) and save percentage (.909). His 52 career victories put him in the top seven all-time at Michigan.
But Hogan has spent the past three months dealing with the third significant injury of his career. The second half of his final season has been spent dealing with a groin injury for the second straight year. Like he did last year, Hogan has been forced to accept a supporting role rather than being cast as a main contributor to the Wolverines' success.
Last year, Hogan was lost for the year after tearing a groin muscle in the final weekend of the regular season. In his absence, former walk-on Shawn Hunwick stepped in, playing a starring role throughout a dramatic playoff run that ended one win short of the Frozen Four.
After making strides to being named Michigan's full-time starter this year, Hogan sustained another groin tear -- this time during warm-ups for Michigan's 5-0 victory over Michigan State in The Big Chill at the Big House.
Once again, he has seen Hunwick take over and become one of the CCHA's top goalies. Hunwick ranks second in the league in both goals against (1.95) and save percentage (.931) and has notched six straight victories, helping carry the Wolverines to the No. 1 seed in the upcoming CCHA playoffs.
Hogan, who has been healthy for the past four weeks, has had no choice but to sit back and watch.
"It definitely has been frustrating," Hogan said. "Things were going well at the beginning and it was my senior year and I wanted to make a big run for it. (This injury) is just another bump in the road, but this is part of hockey and you just have to deal with it."
Since being cleared to play, Hogan has been listed as Michigan's No. 2 goalie and has continued to push Hunwick in practice the way he always has. When he returned, Michigan coach Red Berenson told Hogan that he would try to get him into the lineup, but that circumstances may dictate that he remain on the bench.
With his career quickly nearing an end, Hogan understood he likely wouldn't have a say in the matter.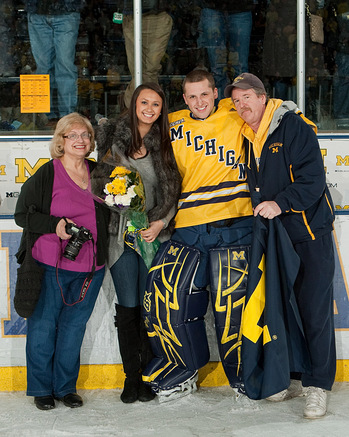 University of Michigan photo services
"I told him he just had to be ready and he has embraced that," Berenson said. "He's been good in practice, he's been a good teammate. And, who knows, he might have to play and he might be the difference-maker down the road."
Hogan isn't counting on it. He has supported Hunwick as best as he can, understanding that his teammate spent more than 2 1/2 years waiting his turn. The two goalies have maintained a strong bond off the ice while competing on a daily basis for the starting job they both cherish.
After the Wolverines built a commanding 4-0 third-period lead last at Northern Michigan last Saturday, Hunwick began to think about Hogan. He understood how difficult the last three months had been and didn't want Hogan's lasting memory to be tearing his groin in front of more than 100,000 people inside Michigan Stadium.
Hunwick called defenseman Greg Pateryn over and told him to go to Michigan assistant coach Billy Powers with a message. He wanted Hogan to finish the game. Pateryn passed the request on to Powers, who then went to Berenson.
With Hunwick pitching a shutout, Berenson wasn't inclined to change goalies. But when Hunwick asked for the move to be made, it was hard for Berenson to say no.
"It said a lot," Berenson said. "It says that, obviously, Hunwick was treated well by Hogan when Hogan was the starting goalie and Hunwick was the third-string goalie. ... For Hunwick to say, 'I want Hogie to come in,' that's a teammate."
For Hunwick, the move was a tribute to Hogan, who had made 41 straight saves before suffering the groin injury last season against Notre Dame.
"He's been a good teammate and he's spent so much time as this team's starting goalie. So I thought it would be good if he could finish the game," Hunwick said. "I didn't want his last memory to be getting injured at The Big Chill."
With the Wolverines poised to make a push for their second straight CCHA Tournament title and almost a lock to advance to their 21st straight NCAA appearance, Hogan is grateful for what he has accomplished.
Given the way Hunwick has played since he took over the starting job, Hogan has made peace with the fact that he may not have an active role in Michigan's postseason. He's thankful for Hunwick's gesture and will continue to work hard in practice, knowing anything could happen.
Although the two groin injuries and a bout with mononucleosis cost Hogan time and games he could have played, he said the physical setbacks haven't taken away from his Michigan experience.
Hogan was one of seven seniors honored prior to Michigan's regular-season home finale, giving him the chance to be recognized one final time. Although he didn't see time in the Wolverines' thrilling overtime win over Western Michigan, getting the chance to celebrate with his classmates helped Hogan feel like he had a hand in his team's success this season.
"This isn't something I've gone through with my career. You really get humble and you realize how unique and special of a job as a starter really is," Hogan said.
"All I can do now is to be ready and to be there for the team whenever I'm called upon. Hopefully, that doesn't come because Hunwick will be playing well and we'll be right there on top. But I still have to be ready."