Michigan hockey team loses third straight game, 3-2, to Michigan State
Posted on Fri, Nov 13, 2009 : 11:27 p.m.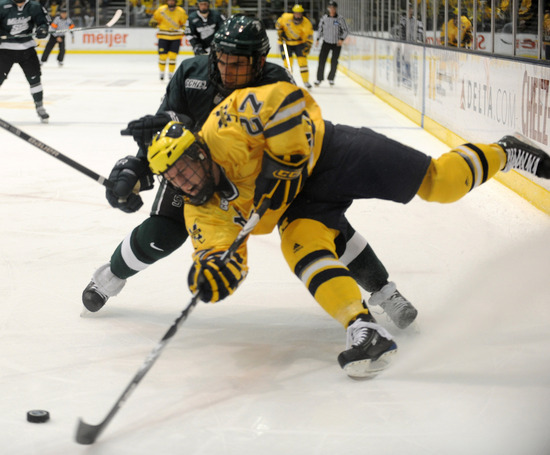 This might be a good time for a road trip.
Things certainly haven't been great at home for the University of Michigan hockey team, which lost its third straight game Friday, 3-2, to Michigan State.
Each of Michigan's last three losses, including two last weekend to Miami (Ohio), have come at Yost Ice Arena. Perhaps a change of scenery - and a hostile crowd - will help Michigan focus better Saturday at East Lansing.
"We can't continue this streak," Michigan left-winger Carl Hagelin said. "Something's gotta change. Maybe it's going on the road."
Friday's loss to Michigan State followed a familiar script. Michigan fell behind early, never recovered, couldn't score on the power play and lost.
The Spartans scored their first goal off a poorly played puck. Defenseman Tristin Llewellyn lost a pass from goalie Bryan Hogan, allowing Michigan State left-winger Andrew Rowe to take the puck behind Michigan's net and score 7:48 into the first period.
"This game has been similar to what we've seen the last couple weeks," Michigan coach Red Berenson said. "We can't seem to get a lead in a game, we can't seem to score, and then we give away a goal that I would call an unearned goal."
Michigan tied it in the second period on freshman defenseman Lee Moffie's first career goal. Moffie took a centering pass from center Matt Rust and shot it between the legs of Michigan State goalie Drew Palmisano.
The Spartans regained the lead 3 minutes later, though, when right-winger Corey Tropp lifted the puck over goalie Bryan Hogan's right shoulder. Center Daultan Leveille extended Michigan State's lead to 3-1 when he went sliding into the net, apparently with the puck ahead of him. Referees signaled a goal after a lengthy review.
Left-winger Carl Hagelin scored 12:07 into the third period, bringing Michigan within one goal, but the Wolverines failed to tie it on a power play at the end of the game. Michigan went 0-for-5 on the power play, and has scored just one power-play goal in its last three games.
"Our power play is one of the weaker ones in the country," Berenson said. "It's something we're working on, but we didn't see any results tonight."
With Miami losing on Friday, Michigan State (7-2-1, 4-1-1) claimed sole possession of first place in the CCHA. The Wolverines (4-5-0, 2-3-0) have dropped below .500.
It's at least some solace, Berenson said, that Michigan has been losing to good teams.
"We're a pretty good team. We're in every game," he said. "Let's face it, Miami's the No. 1 team in the country, and Michigan State's not far behind them."
Michigan, though, is slipping well behind the CCHA frontrunners. At least the Wolverines will have a chance to turn things around quickly at Michigan State.
"I think we have the talent, we have the work ethic, we just need to put it all together," forward Luke Glendening said. "We see it in practice, we see glimpses of it in games. Yeah, it's disappointing we're losing, but we see the light and we need to get there right now."