Michigan gymnasts Sam Mikulak, Adrian de los Angeles prep for shot at Olympic Trials and beyond
Posted on Thu, Jun 7, 2012 : 5:59 a.m.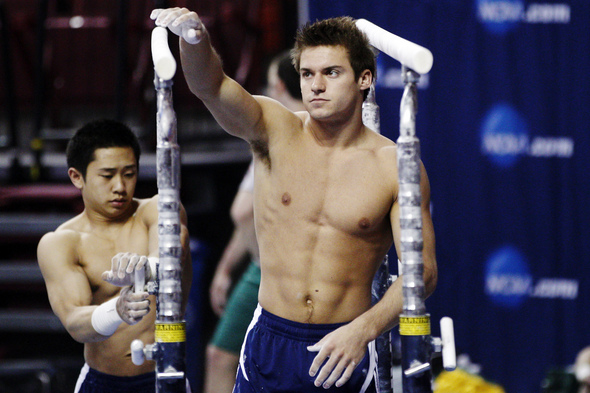 Associated Press
Sam Mikulak and Adrian de los Angeles have known each other for a long time.
Not just a few months or a handful of years. A long, long time.
Two of the more established young gymnasts in the Michigan men's gymnastics program, Mikulak and de los Angeles have been around each other since, well, birth -- basically.
"I did Mommy and Me (gymnastics) classes with Sam," de los Angeles recalls.
A pair of California transplants, Mikulak and de los Angeles have gone through the rigorous gymnastics lifestyle along side one another for as long as they can remember.
They discovered the sport shortly after figuring out how to walk, and then worked to hone their skills together at SCATS Gymnastics, an Orange County, Calif.-based training center.
Prior to the 2011 campaign, Mikulak enrolled at Michigan, where he wrapped up his freshman season with an individual NCAA All-Around championship. A year later, de los Angeles -- a former United State National Team member -- joined him in Ann Arbor.
Two of seven Michigan men's gymnasts team members with California roots, it's fair to say Mikulak and de los Angeles have been through just about everything together.
"It's just kind of like having a little piece of home with you," Mikulak said. "We've been doing routines together the whole past month, and it's always nice to have more people in the gym working and striving for the same goal."
Currently, that goal is an awfully lofty one: The 2012 Olympic Games in London.
Mikulak and de los Angeles will both compete in the 2012 Visa Championships, which begin Thursday in St. Louis.
The event serves as a qualifier for this summer's Olympic Trials, which will be held from June 28-July 1 in San Jose, Calif. The top 15 finishers at this week's Visa Championships will become members of the United States Senior National Team, and will punch their ticket for San Jose.
That brings them one step closer to the ultimate destination of choice: London.
One of their Michigan teammates, Syque Caesar, has already wrapped up a spot on an Olympic roster. He'll compete for Bangladesh, his father's home country.
"I'm pretty sure it's every kid's dream to make the Olympic team," Mikulak said. "To be here and be so close, it's just mind-blowing."
At this point in their respective careers, Mikulak is the more accomplished gymnast, and has full aspirations of not only making the 2012 Olympic team, but also helping the group win gold this summer in London.
Meanwhile, de los Angeles says being able to work his way into the trials and get back on the national team would be an incredible accomplishment.
But if he's able to push ahead any further, he says Mikulak will have something to do with that.
"Sam is someone to look up to," de los Angeles says. "(His level of competition) gives me something to strive for."
Mikulak and de los Angeles have been competing since they could crawl, and excelling since they could walk.
Now quite a long way from those Mommy and Me classes, the duo faces the next step of their gymnastics careers together.
It's a big one, to be sure. But they both feel ready for the challenge.
"I'm a young gymnast, and I definitely have plans for 2016, but this is the first step," Mikulak says. "I just want to take it one step at a time."