Michigan goalie Shawn Hunwick makes the most of emergency start on 'unbelievable' stage
Posted on Sat, Dec 11, 2010 : 8:20 p.m.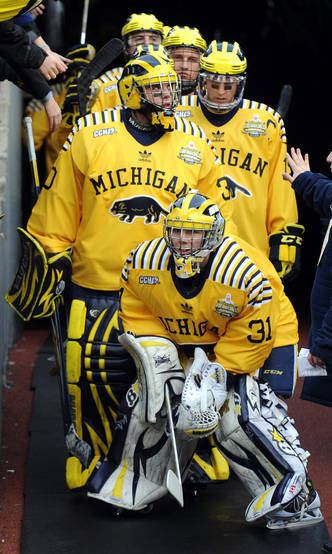 Lon Horwedel | AnnArbor.com
By the time Shawn Hunwick reached his phone Saturday night, 30 text messages awaited him.
He arrived at Michigan Stadium earlier in the day, prepared to watch the Big Chill at the Big House from the bench while fellow goalie Bryan Hogan attempted to give the Michigan hockey team its fourth straight win against Michigan State.
That quickly changed, though, when Hogan pulled his groin during warmups.
"I'm not going to lie. When I saw (Hogan) go down, I was pretty scared. I mean, you're going to be in front of 113,000," Hunwick said after Michigan's 5-0 outdoor victory over the Spartans in front of a record crowd of 113,411.
"But I saw it as an opportunity."
On Thursday, Michigan coach Red Berenson announced Hogan would start Saturday after relying on both goalies over the first two months of the season.
Hunwick was the hard-luck victim of some disappointing Friday night showings, registering a 2-3-4 record. Hogan, meanwhile, won seven of his nine outings.
But like last year, when Hunwick was forced into the lineup when Hogan sustained a season-ending groin injury against Notre Dame, he didn't disappoint. He finished with 34 saves, using an inspired defensive effort in front of him to shut the Spartans out.
"(The sudden change) gives your team an added sense of urgency," Berenson said. "But the kid never missed a beat. It didn't seem it bothered him at all."
Forty-eight hours before, Hunwick was convinced he wouldn't play until after Christmas when he and Hogan were expected to split starts at the Great Lakes Invitational.
A year ago at this time, the former walk-on had never made a collegiate start. When Hogan was lost for the season, the goalie who is generously listed on Michigan's roster as standing 5-foot-7 quickly became one of the heroes of the Wolverines' improbable run to Michigan's 20th straight NCAA appearance.
But as big as registering a shutout win over Notre Dame in his first start, as monumental as being named the Most Valuable Player in last year's CCHA Tournament had been, nothing matched his performance Saturday.
Hunwick grew up in Roseville as a Michigan football fan. As a kid, performances like Tim Biakabutuka's shredding of the Ohio State defense in 1995 and Charles Woodson's Heisman Trophy run in 1997 helped point Hunwick toward Ann Arbor.
Although his brother, Matt, had starred as a defenseman for Berenson, he never figured one day he would be starting for the Wolverines. Let alone in Michigan Stadium.
"I still feel like I'm lucky to be here," Hunwick said. "Growing up listening to (football) games on the radio or watching them on TV meant a lot to me. So it's pretty unbelievable to be on the same field that some of my greatest idols were on."
Hunwick, who made a career-high 45 saves in a 3-3 tie with New Hampshire earlier this season, didn't disappoint once on the big stage. He admitted that he occasionally took notice of his surroundings during television timeouts. But when the puck was in play, he didn't let anything by him.
"As the game progressed, they just built up so much momentum and they had pride in their defense," Michigan State sophomore captain Torey Krug said. "Hunwick played an unbelievable game. ... And that just set the tone for the whole game."
Afterward, Hunwick's teammates pushed the goalie onto the ice, ceremoniously making him the fourth star of the game. Hunwick skated out to a warm reception.
"I think it's huge," Hunwick said. "Having three wins after 10 games still isn't good enough. But this is obviously a huge win and, hopefully, it will propel me to a better second half."