Michigan coach Rich Rodriguez: 'I understand the importance of the rivalry'
Posted on Mon, Nov 16, 2009 : 7:55 p.m.
ANN ARBOR - Rich Rodriguez got indoctrinated into the Michigan-Ohio State rivalry the moment he set foot on campus for his first press conference - when someone slipped a "Beat Ohio State" button into his coat pocket.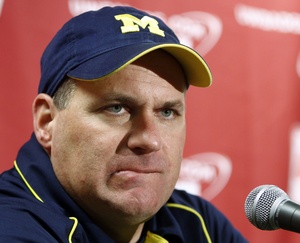 AP photo
"Just because I did not coach here before, I did not play here, I'm not from the state of Michigan, doesn't mean I don't understand the rivalry," Rodriguez said Monday. "Trust me, I understand the importance of the rivalry."
This year in particular, the Michigan-Ohio State rivalry takes on extra importance both for Rodriguez and the Wolverines.
Michigan (5-6, 1-6) needs one win to become bowl eligible and avoid its first back-to-back losing seasons since 1962-63, while Rodriguez is under fire from a fan base fed up with the program's recent losing ways.
Rodriguez is 8-15 in his second season as Michigan coach and 3-12 in Big Ten play. If the Wolverines lose Saturday, he'll become the first coach in Michigan history to lose his first two games to Ohio State.
Making matters worse, the Buckeyes continue to roll along as the class of the league. Ninth-ranked Ohio State (9-2, 6-1) clinched its fifth straight Big Ten title and the conference's automatic BCS bid last week with a win over Iowa.
"I'm going to give you a news flash here," Rodriguez said. "I'm going to coach as hard as I can in every game I play, whether I'm playing Delaware State or Ohio State. Ohio State is a whole lot more important to a lot more folks, and I understand that."
A win Saturday won't cure all of Michigan's ills, but it could signal things are at least on the right track.
Michigan has lost five straight in the series, and with a young nucleus Rodriguez said better days ahead.
"We can see the light at the end of the tunnel," he said. "Sometimes it's hard when you're losing to see that, but we can see it.
"We're going to be back there where I want it to be and everybody else wants it to be. It's just a longer process that we're going through now than we wanted to go through."
And when will Michigan reach the light?
"Not as quickly as I'd like, but we'll be there," Rodriguez said. "We've had one full recruiting class, which are now our true freshmen. Those guys are 18 or 19. When those guys are 20 or 21, they'll be more like men."
Linebacker Stevie Brown, one of two seniors starting on Michigan's defense, said players share Rodriguez's optimism.
"There won't be too many more seasons like this or last year happening anytime soon," Brown said. "It's coming very soon."