Luke Glendening's first pro season starts in familiar place, 'no guarantees' rest of the way
Posted on Mon, Oct 8, 2012 : 5:40 a.m.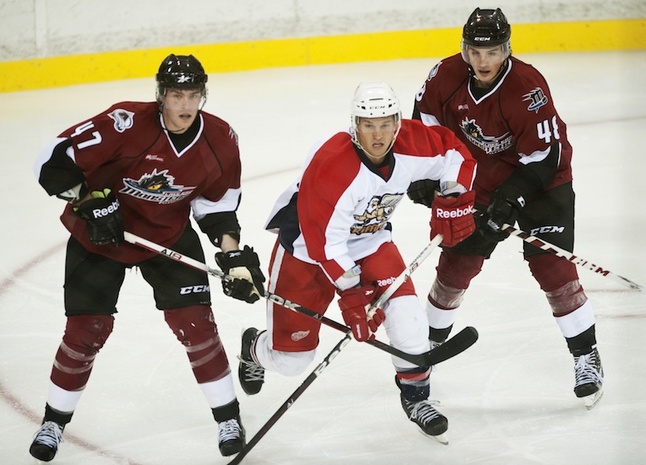 Daniel Brenner | AnnArbor.com

In the bowels of the Yost Ice Arena on Sunday evening, Brad Thompson - the equipment manager for the Grand Rapids Griffins - sent a text message to former Michigan hockey captain Luke Glendening and had a laugh.

The text was a picture of one of the many places in the newly renovated arena you can find Glendening's likeness. Glendening's picture hangs in the trophy cases, he's on team photos, and is even painted on the wall of the east concourse as part of a tribute to former captains.

There are benefits to starting your first full season as a professional hockey player in your old college arena, but enduring some lighthearted teasing is the price.

Glendening looked solid in his professional debut for the Griffins - the Detroit Red Wings' American Hockey League affiliate - in an exhibition game against the Lake Erie Monsters.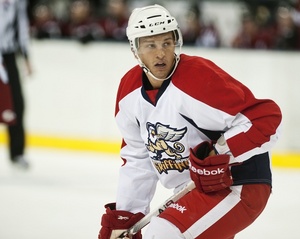 Daniel Brenner | AnnArbor.com
Glendening's former teammates and coaches said earlier in the week they were excited to see him play on Sunday and many stuck around after an intra-squad scrimmage to watch him play.
"It's good to see him getting an opportunity," said Michigan assistant coach Brian Wiseman. "He was a heck of a player here at Michigan and a good leader."
Glendening played three games with the Providence Bruins on an Amateur Tryout contract over the summer and signed a one-year deal with the Griffins shortly thereafter. Glendening tallied 70 points in 165 career games with the Wolverines is the the first Greater Grand Rapids area native to ever sign with the Griffins.
He said he's adjusting well to the professional game so far.
"I've had to stick with the things I've been doing. Working hard, being physical being smart with the puck," Glendening said."But I've had to take steps in the right direction in terms of being a better skater, being better with the puck, being smarter."
Glendening said it was comforting to play at the rink he called home for so long with his new team.
"To play, I guess what is my first pro game of this season, on that rink is pretty special and it was a great experience," Glendening said. "(Yost) looks new and it is new, but it's still the same old feel that I had for four years when I walked out there."
Griffins coach Jeff Blashill said Glendening will find what his immediate professional future holds on either Monday or Tuesday as Grand Rapids trims its roster for the upcoming season.
With the NHL lockout saturating the talent level in the AHL, a spot on the Griffins roster doesn't seem likely. Blashill didn't say whether Glendening will stay in Grand Rapids or be sent to the Toledo Walleye, the Griffins' East Coast Hockey League affiliate, to start the season, but said he liked what he saw from Glendening in training camp.
"I believe that he'll continue to work real hard and do the things that he's done to be successful in the past," Blashill said."With the lockout and the NHL, there's guys that are fighting for their spots and he's certainly included in that mix.
"The other thing I'd say though: this is a marathon," Blashill said. "Lots of guys start up and then get sent down and then come back up. Some guys start up and come back down it's just the reality of being a pro. There's no guarantees. You just gotta keep fighting every day for your spot."
Glendening said he's trying to continue to do all things that have proven successful for him in the past while adjusting to the different schedule and striving to improve.
"It's just showing up every day. Doing the right things, eating well, sleeping. It's not such a regimented schedule (as in college). You have one practice at ten and then you're free," Glendeining said. "It's what you do with those off hours that's important and I'm learning more and more every day."