Jordan Taylor's one-hitter leads Michigan softball team to win over Central Michigan
Posted on Wed, Apr 13, 2011 : 10:28 p.m.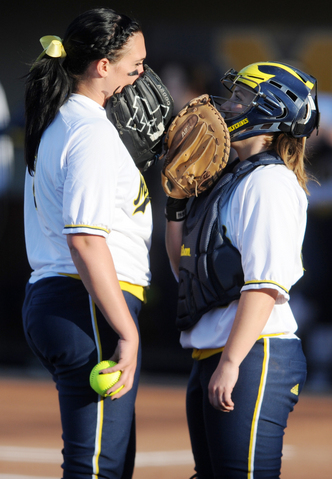 Melanie Maxwell I AnnArbor.com
On the day she was named a finalist for the USA Softball College Player of the Year award, Michigan senior pitcher Jordan Taylor pitched a gem at Alumni Field.
Taylor allowed one hit and struck out nine Central Michigan batters in a 3-0 non-conference win Wednesday night.
"I thought this was an outstanding game for Jordan. She looked great and was on her game, and thankfully, because the rest of us weren't," said coach Carol Hutchins, whose team had scored 29 runs in its last three games.
"It seemed easy for us on Saturday and Sunday, but it wasn't as easy today. In softball, you rely on your pitching and your defense, because hitting can be hard and can come and go. You hope you're pitching is solid."
No. 9 hitter Brittney Horan was the only Central Michigan player to reach base. She singled in the third inning and walked in the sixth but was stranded at second base both times.
Taylor was nonchalant about her performance, telling MGoBlue.com, "I wouldn't say it was my best outing. Results wise, it was good. But I can always do better."
Alycia Ryan, the Wolverines' No. 7 hitter, scored on a Bree Evans single in the second inning and then hit a two-run home run in the sixth to account for all of Michigan's runs.
Evans went 3-for-3 at the plate for Michigan. (Boxscore)
Taylor and first baseman Dorian Shaw were both named to the Amateur Softball Association of America's top 25 finalists list for the 2011 player of the year award on Wednesday.
A list of 10 finalists will be released on May 25 and the winner will be announced at the Women's College World Series.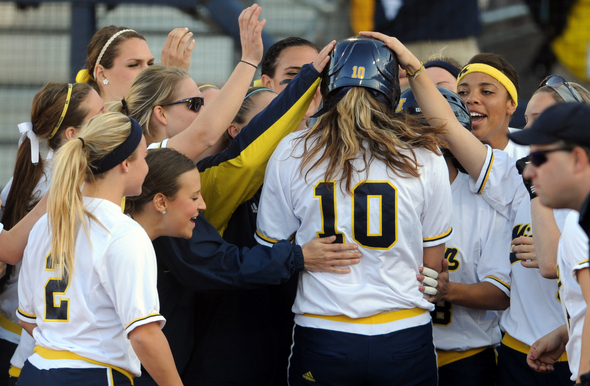 Melanie Maxwell I AnnArbor.com