River Rats repeat: Huron wins second straight boys tennis state title with eight newcomers
Posted on Sat, Oct 20, 2012 : 6 p.m.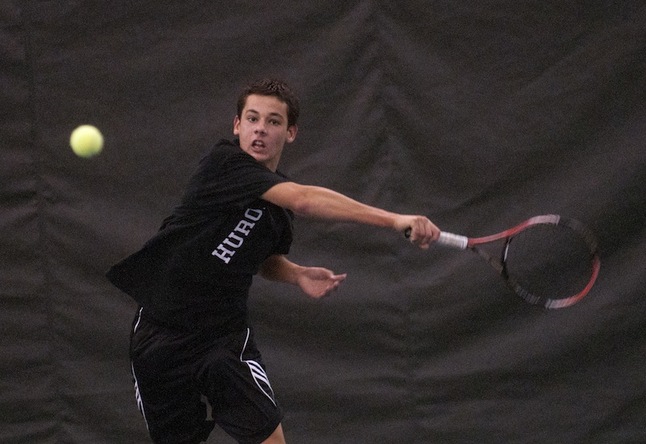 Jon Garcia | Mlive.com
MIDLAND -- The record book may say that this was the second straight state title for Huron High School's boys tennis team.
But for most of the lineup, this felt like the first time.
Huron completed a back-to-back title run and won the seventh boys tennis state title in school history Saturday afternoon at the Midland Community Tennis Center. The River Rats finished with 33 points, six better than Novi and Birmingham Brother Rice.
"Just an amazing performance from this group," Huron coach Stefan Welch said. "They had good team chemistry and stuck together all year and just came out and played a great state tournament this weekend."
More coverage: Full results of Saturday's Division 1 tennis state finals
Five Huron players came away with individual state titles: Colin Williams at No. 3 singles, Aaron Brodkey and Aki Ota at No. 1 doubles and Ryan Stark and Max Teener at No. 2 doubles.
Huron cruised to its title despite losing eight seniors from last year's team -- two thirds of its lineup.
But on the biggest stage, the newcomers stepped in and shined. Of the team's five individual state champions, three were alternates last year.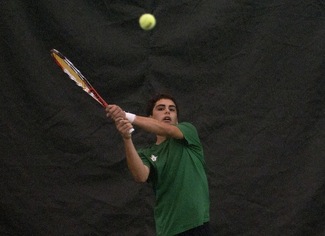 Jon Garcia | Mlive.com
"They came to the state tournament and saw the experience and were able to step in and perform," Welch said of the eight newcomers. "I'm a little surprised they did as well as they did. But credit to them, they played a great tournament."
Skyline, making its first-ever state finals appearance, finished tied for seventh overall. Pioneer finished tied for ninth.
The River Rats scored the maximum possible 24 points on Friday by advancing its players through the quarterfinals of all eight flights. They held a two-point lead over Novi and Birmingham Brother Rice entering Saturday's play.
That lead helped Huron wrap up its state title early in the afternoon when semifinals were still going on. All four Huron doubles teams advanced to the finals, along with two of its singles players: Jon Seyhun finished as state runner-up in No. 4 singles.
It marks the second straight year Huron has advanced all four doubles teams to the finals. Michael Bondin and and George Lu finished runner-up in No. 3 singles, as did Will Brenner and Austin Luker in No. 4 singles.
By the time finals rolled around, everything was icing on the cake, as word began to circulate that the team title was in hand.
Teener and Stark found out from Welch midway through their match that Huron had already won the team title. It didn't have a relaxing effect, though.
"I think it made us play worse actually," Teener said. "Pressure helps us"
But the duo rallied through a lost second set to win, 6-4, 1-6, 6-3.
Brodkey, the only returning doubles players to Huron's lineup, and Ota dispatched their finals opponent, 6-0, 7-5.
Teener and Stark were both in Midland last year as alternates, and agreed that winning a title as a starter instead of an alternate is a much better feeling.
"Last year we sort of just came, ate food and cheered," Teener said. "But we didn't really get the feeling of each match and the intensity."
For Williams, an individual state title was the end of a three-year quest. He advanced to the final match each of the last two years in doubles, only to lose both times in the third set.
"I just really wanted to not have that happen again," Williams said. "That feeling sucks."
In the finals, he faced Novi's Koushik Kondapi, an opponent he lost to a month ago in three sets. Saturday, he won, 6-3, 6-4.
As a team, Huron lost to Novi in dual match, something that Welch said gave his team a wakeup call before the state tournament.
Huron rolled from there, not dropping a set in regionals and winning states by a larger margin than last year.
But despite that, Williams said the team took an underdog mentality from day one and never lost it.
"Novi and Brother Rice were supposed to be one and two, and we were kind of in the shadows," Williams said. "We were just waiting for our chance to be here and win."
Division 4
Greenhills won its fifth straight state title, compiling 36 points, twice as many as runner-up Comstock Park.
Greenhills swept all four doubles flights: Chang Che and Zach Martell won No. 1 doubles, Adhi Rajaprabhakaran and Nick Sandhu won No. 2 doubles, Connor Kaczynski and Matteo Todisco won No. 3 doubles and Neil Sykes and Gage Feldeisen won No. 4 doubles.
The Gryphons also won two singles flights: Mithun Saha at No. 2 singles and Zach Tsai at No. 4 singles.