Willow Run mourns passing of longtime scorekeeper Lee Morgan
Posted on Thu, Sep 27, 2012 : 3:13 p.m.
When Matt Seidl was hired as Willow Run's athletic director over the summer, he immediately sought advice from his predecessor, Von Acker.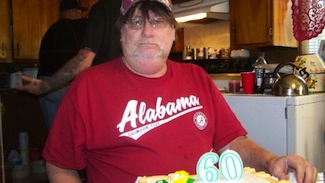 Facebook.com
Acker's response: talk to Lee.
"The one guy you can count on is Lee," Seidl recalls Acker saying. "He knows how to set things up, he knows if you have a problem."
Lee is Lee Morgan, who spent more than 35 years as the Flyers scorekeeper -- a period in which he transcended normal scorekeeper duties and became a well-liked fixture on the athletic scene, from the middle school level all the way up to varsity.
Morgan passed away Wednesday night at age 62.
Willow Run will hold a moment of silence for Morgan before its 4:30 p.m. home football game Friday against Detroit Westside Christian, as the school and community mourns a figure who provided support to coaches, made sure events ran smoothly and always kept the focus on the students.
"It's a big loss for us from a game management standpoint," Seidl said. "But more importantly we lost Lee."
A visitation will be held from 4-8 p.m. Friday at Janowiak Funeral Home in Ypsilanti. The funeral will be held at 10 a.m. Saturday.
Near the end of August, Morgan started complaining of feeling ill, Seidl said. A visit to a doctor resulted in a diagnosis of with late-stage brain and lung cancer.
Morgan continued his scorekeeping duties as the fall season got underway, including keeping volleyball stats and scoring the first football game. But it was obvious his health had deteriorated far beyond the point most people would continue scorekeeping duties.
"He was barely moving," Seidl said. "It's something that he always wanted to do."
Seidl was at a Willow Run volleyball game Wednesday night when he got a text from Morgan's daughter, Tina, informing him of Morgan's passing.
The news resonated with not only coaches and administrators who had known Morgan for years, but also players, many of whom considered Morgan a grandfather figure.
"When they heard it last night, they were just overwhelmed with emotion," Seidl said of the players.
A retired autoworker, Alabama native and 1968 Willow Run graduate, Morgan was memorable for a strong sense of humor, southern accent and devotion to University of Alabama football.
On top of his duties with a scorebook, Morgan became the expert with fixing and maintaining equipment. And he was often a calming influence if events escalated at games.
"He was a cooling factor to coaches, he was a friend to the refs," Acker, a longtime Willow Run coach, teacher and athletic director, said. "If one of our coaches would get on the refs, he would talk to coaches, talk to refs, and remind them it was all about the kids."
But he also had his own competitive streak. Seidl, who coached Willow Run boys basketball from 1992-97, remembers a distinct reaction to lost basketball games.
"Any time we did lose, he gave me one of those 'don't ever let it happen again' looks," Seidl said. "I was cracking up just looking at him."
Morgan started helping out scorekeeping at Willow Run at 1976, the school he would later send children and grandchildren to. He started working football and boys basketball games, and soon offered to add volleyball and other sports to his workload pro bono, to save the district money.
Morgan would often start with a 4 p.m. middle school game, and stay through a 7 p.m. varsity game. On basketball nights, he would keep score for the freshman, junior varsity and varsity games, eliminating the task of finding multiple scorekeepers that many athletic directors face.
"It was great," Acker said. "That was one part of the job I didn't have to worry. If we needed a scorekeeper, timer, he was always there."
So starting this fall, there will be someone different taking the stats for Willow Run athletics, but they won't take the place of Morgan.
"Willow Run will miss him," Acker said. "He's irreplaceable."