Whitmore Lake girls golfer earns college scholarship by playing with the boys
Posted on Sun, May 20, 2012 : 10:34 a.m.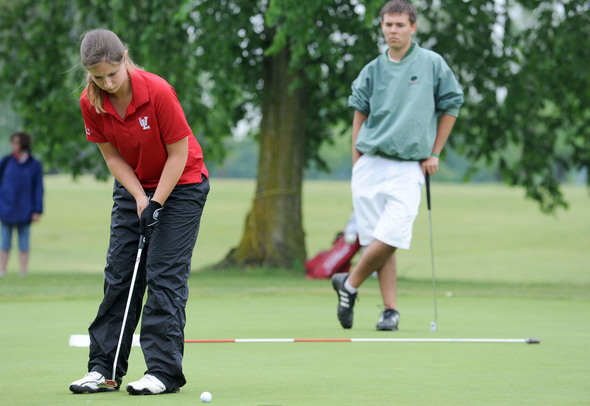 Angela J. Cesere | AnnArbor.com
While playing in her grandparents' yard one day, Emma Salata decided to pick up one of her grandfathers' golf clubs and give it a swing. Then 12 years old, Salata had never tried it before.
"The swing came very naturally to me and my grandparents just taught me everything and eventually they took me out to the golf course," said Salata, now a senior at Whitmore Lake High School. "I just fell in love with (the game)."
Today, Salata is the captain of the Whitmore Lake boys golf team, a title she's held since her sophomore year. Coach Larry Thistlewaite said she is the perfect fit for the role.
"It was an easy decision," he said. "She had the game, so it was easy for her to be able to demonstrate how to do things with other players, and she had the respect of the players pretty quickly."
Salata earned that respect through her drive to always improve her game.
"What I'd admire most is her self-discipline. If she feels like she has a problem with any part of her game, she fixes it," Thistlewaite said. "She doesn't need to be told to work on chipping or putting or whatever."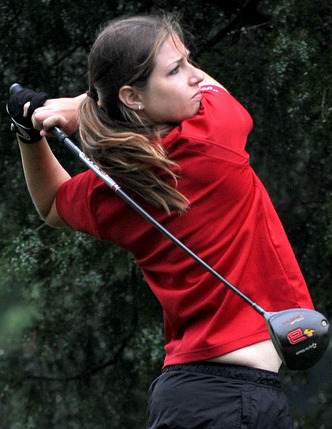 Angela J. Cesere | AnnArbor.com
Working on the finer points of the game is essential for Salata, who is at a slight disadvantage when she competes. Although she is a female, Salata plays from the men's tees and usually finds herself further from the pin than her contemporaries. But she doesn't see that as a negative.
"It's really just about how you play your game. It doesn't matter that I'm a girl out there," she said. "I play the ball. I play from the same tees, I'm playing the same course, I'm playing in the same conditions as everyone else.
"If I'm good enough to beat them, then I'm good enough. And if I'm not, I'm not. I just have to play my game. It doesn't matter that I'm 20 yards behind everyone off the tees."
That experience also caught the eye of Western Michigan women's golf coach Cindy Trout, who recruited Salata to Kalamazoo.
"Emma has a lot of raw talent. She hits a long ball and is used to playing college-length courses, having successfully played on her high school boy's team," Trout said in a release after inking Salata to a national letter of intent. "She is challenged by the question, 'How good do you want to be,' and I believe she wants to be great."
Because she is usually behind her competition, Salata has focused on making her short game her biggest strength.
"Her short game is one of the best in the (Tri-County Conference)," said teammate James Richards.
Being a girl on the boys team may seem strange to some, but Salata says she's never gotten a bad reception from her competition.
"I imagine the first time they saw me, they might have been a little surprised," Salata said. "But now, in the conference, everyone knows me and it's not unusual at all."
"She's treated with respect by the other players. That's just not an issue," said Thisthlewaite.
Salata enrolled at Whitmore Lake -- which does not have a girls golf team -- after spending her freshman year at Father Gabriel Richard, where she earned all-Catholic League honors.
At Whitmore Lake, Salata has twice been named team MVP and an all-conference player and holds the school's nine- and 18-hole scoring records. Last year, she qualified for a Division 3 MHSAA regional as an individual.
As Salata has improved, so has her Trojans' team, which plays in a district tournament at Pine Valley Golf & Country Club in Ray on May 31.
"We've grown a lot. The guys have developed a much better mental game from when they began and everyone's swings have improved," Salata said. "Our scoring averages are always going down. From where the program started six years ago to now, it's a completely different program."
Salata has excelled in the classroom, too, having already completed several courses at Eastern Michigan. Because of her high marks as a student, Salata earned a partial academic scholarship along with her partial athletic scholarship to Western Michigan.
Salata plans to study pre-dentistry and biochemical engineering at WMU while continuing her golf career. A career that she wouldn't have if it weren't for her time playing with the boys at Whitmore Lake.
"Being able to have the opportunity to play from the tips on some courses and learning how to play that distance, I've developed a better swing," she said. "Having the need to hit the ball further, I've worked on being able to increase my short game a lot. There are some holes I cannot reach the green in two. Being able to develop that throughout the year has really helped."